Frontier markets continue to grow in popularity, at least as measured by fund flows. The equity and debt markets within frontier countries have seen increasing allocations by investors looking to capitalize on their outperformance relative to emerging markets. Equally important, as the performance of frontier and emerging markets has diverged, investors have benefited from the diversification that comes from less correlated assets.
MSCI Frontier Markets Index relative to the MSCI EM Index
January 2006 – February 2014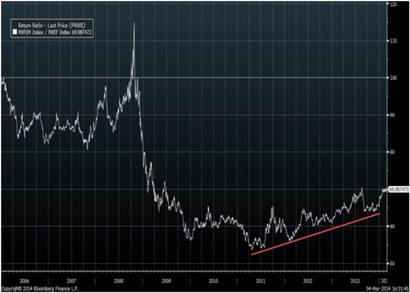 The chart above shows performance of the MSCI Frontier Market relative to the performance of the MSCI Emerging Markets Index. The outperformance of frontier markets since mid-2011 has been impressive but increasingly investors are asking if it is justified. At Driehaus, we continue to see countries where global investor participation is low and fundamental factors remain favorable, such as in Saudi Arabia. However, given the strong inflows into frontier markets, certain areas no longer reflect the underlying fundamentals. We believe frontier markets remain an attractive opportunity set but we see an increasing need to differentiate between markets by focusing on the underlying fundamentals to pick attractive investments.
This information is not intended to provide investment advice. Nothing herein should be construed as a solicitation, recommendation or an offer to buy, sell or hold any securities, market sectors, other investments or to adopt any investment strategy or strategies. You should assess your own investment needs based on your individual financial circumstances and investment objectives. This material is not intended to be relied upon as a forecast or research. The opinions expressed are those of Driehaus Capital Management LLC ("Driehaus") as of February 2014 and are subject to change at any time due to changes in market or economic conditions. The information has not been updated since February 2014 and may not reflect recent market activity. The information and opinions contained in this material are derived from proprietary and non-proprietary sources deemed by Driehaus to be reliable and are not necessarily all inclusive. Driehaus does not guarantee the accuracy or completeness of this informa­tion. There is no guarantee that any forecasts made will come to pass. Reliance upon information in this material is at the sole discretion of the reader.