On November 30, 2016, global energy markets changed significantly when the Organization of Petroleum Exporting Countries (OPEC) unexpectedly came to an agreement and made its first major policy change in two years. OPEC announced it would institute a production cut of about 1.2 million barrels per day (Mbpd), reducing its output quota to 32.5 Mpbd, effective Jan 1, 2017 (Exhibit 1). This was a clear shift from the prior policy of ramping up production to protect market share. Additionally, non-OPEC countries agreed to cut 0.6 Mbpd of production, with half of that cut coming from Russia. The combined roughly 1.8 Mbpd of production cuts represent about 1.9% of the International Energy Agency's (IEA) fourth quarter 2016 global oil demand estimate of 97 Mbpd, and could result in a faster inventory normalization process for global oil markets.
Exhibit 1: Oil production estimates, by country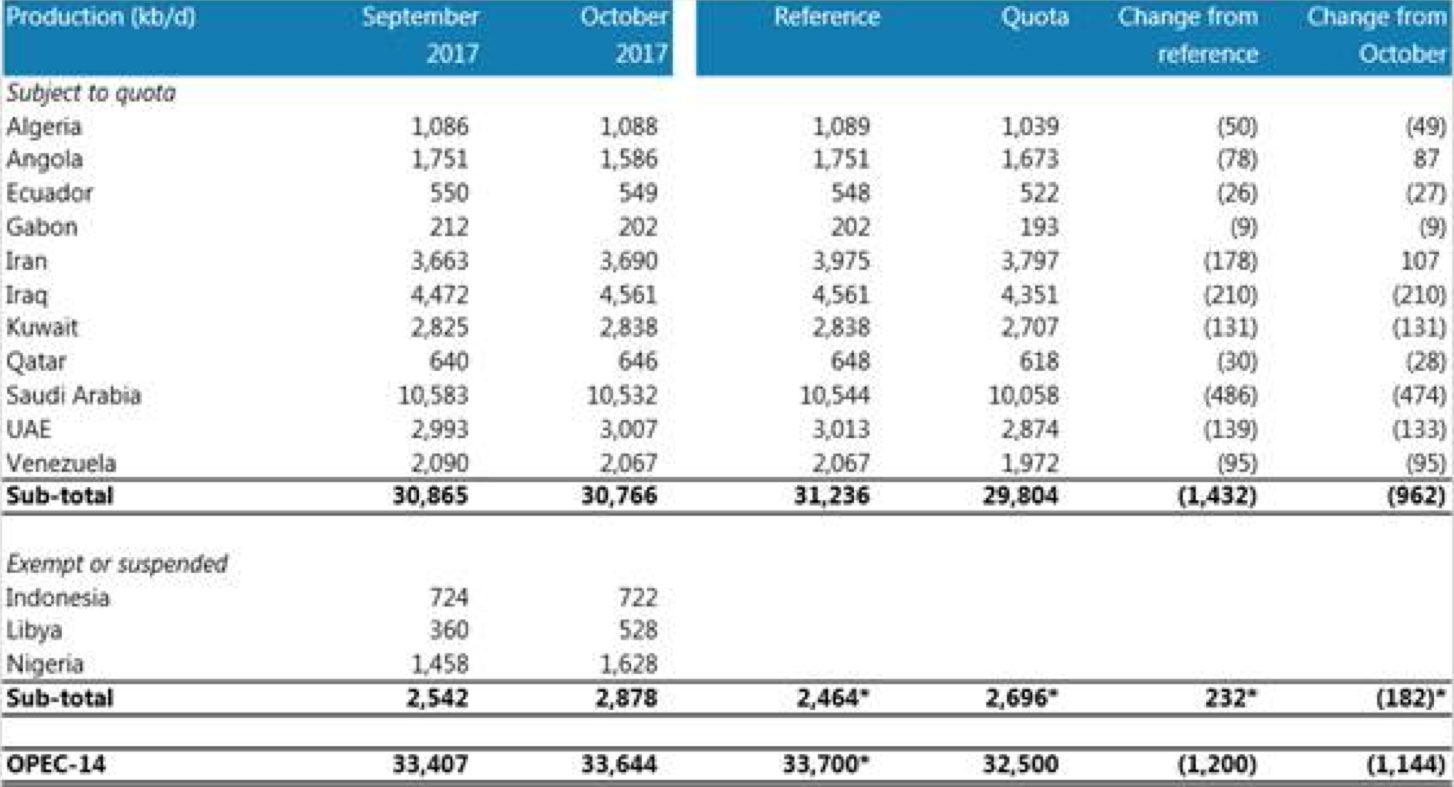 Source: Morgan Stanley Research
Since the OPEC announcement, the price of Brent crude is up about 20%. While energy stocks have reacted positively, there has been some performance divergences across industries (Exhibit 2). Oil service stocks are up nearly 17%, as measured by the VanEck Vectors Oil Services ETF (ticker: OIH), outperforming exploration and production (E&P) companies, which rose 8%, as measured by the SPDR S&P Oil & Gas Exploration and Production ETF (ticker: XOP). We believe it is possible that the outperformance in oil service relative to exploration and production could continue.
Exhibit 2: Since the OPEC announcement, oil prices and stocks of companies in oil-related industries have increased dramatically
November 29, 2016 through January 13, 2017

Compliance with OPEC production cuts is never certain and US production is likely to increase significantly in response to this policy. Both of these factors could cause oil supply to increase faster and put a ceiling on the price of oil. While it is unclear what will happen to the price of oil, what is clear is that this policy change has given exploration and production companies the green light to increase activity. This is starting to play out with the US land horizontal rig count at 547 rigs as of January 6, 2017, which is a 12.5% increase during the last four weeks and a 46% increase from the third quarter.
With the oil service industry decimated by bankruptcies, negative margins, and labor losses over the last two years, it may struggle to keep up with demand as nearly every E&P ramps up production simultaneously. The result could be that pricing power returns to service companies more quickly than in prior cycles. We see promising energy-related investment opportunities in oil service companies that are the most exposed to well completions, frac sand, and logistics.
This information is not intended to provide investment advice. Nothing herein should be construed as a solicitation, recommendation or an offer to buy, sell or hold any securities, market sectors, other investments or to adopt any investment strategy or strategies. You should assess your own investment needs based on your individual financial circumstances and investment objectives. This material is not intended to be relied upon as a forecast or research. The opinions expressed are those of Driehaus Capital Management LLC ("Driehaus") as of January 2017 and are subject to change at any time due to changes in market or economic conditions. The information has not been updated since January 2017 and may not reflect recent market activity. The information and opinions contained in this material are derived from proprietary and non-proprietary sources deemed by Driehaus to be reliable and are not necessarily all inclusive. Driehaus does not guarantee the accuracy or completeness of this informa­tion. There is no guarantee that any forecasts made will come to pass. Reliance upon information in this material is at the sole discretion of the reader.