Frontier market equities offer investors many attractive characteristics. First, the countries comprising frontier markets largely possess superior growth rates and better demographics than can be found in developed or emerging markets (Exhibits 1 & 2).
Exhibit 1: Superior growth within frontier markets

Source: FactSet, Driehaus Capital Management
Exhibit 2: Better demographics within frontier markets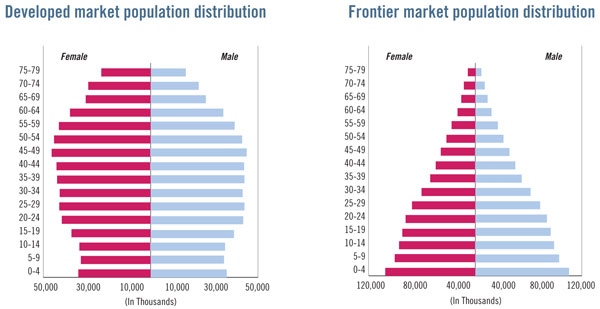 Source: United Nations, Department of Economic and Social Affairs, Population Division (2013); Driehaus Capital Management
Moreover, the valuation of frontier markets on a P/E basis is near its historical lows, and the asset class is still in its relative infancy. Market cap as a percentage of GDP is only 2.9%, which compares to approximately 125% for the US (Exhibit 3).
Exhibit 3: Frontier country market cap as a % of GDP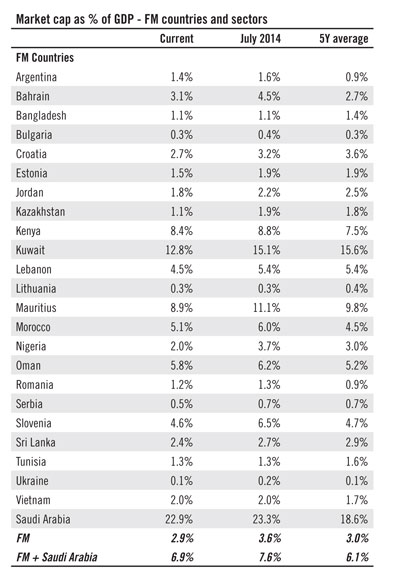 Lastly, there is an additional benefit to asset allocators beyond valuation and growth, which is the uncorrelated nature of the asset class. In a world that is increasingly seeing correlations trend toward one, even a small allocation to frontier markets can produce meaningful benefits for a portfolio.
As shown in Exhibit 4, frontier markets maintain a relatively low absolute correlation to global equities. In fact, while correlations of most asset classes have remained high in recent years, frontier has actually seen its correlation decline. While we caution investors that frontier markets will not likely prove immune to an environment like the global financial crisis—which did accompany a spike in correlation—we see ongoing benefits to asset allocators in a world with fewer areas of differentiation.
Exhibit 4: Rolling 1-year correlations versus MSCI ACWI, as of March 31, 2015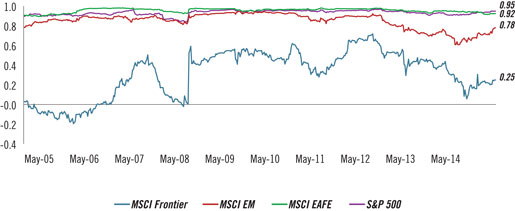 Source: eVestment and Driehaus Capital Management
Please consider the investment objectives, risks, fees and expenses of the Fund carefully prior to investing. The prospectus and summary prospectus contain this and other important information about the Fund. To obtain a copy of the prospectus/summary prospectus, please call us at (800) 560-6111. Please read the prospectus and summary prospectus carefully before investing.
Driehaus Securities LLC, Distributor