One of the most important metrics investors monitor when assessing financial performance of a casino is the trajectory of earnings before interest, taxes, depreciation and amortization (EBITDA) margins. Rising margins will generally coincide with a rising stock price. While many factors contribute to a casino's margin profile, one lever that management teams have full control over is promotional spending. Promotional tools that casinos use to draw gamblers into their property include free buffets, subsidized gaming play, tickets to shows and free hotel rooms.
After several years of weak revenue growth coming out of the recession, management teams began to more closely scrutinize their promotional spend in an effort to drive margins higher. While giving away hotel rooms to their best customers had been standard practice for decades, many operators have been pulling back on such behavior. Casino executives have found that they were losing money on the gamblers that would only come when offered discounts. This change in industry mindset has resulted in a significant reduction in promotional allowance over the last few years (Exhibit 1).
Exhibit 1: Promotional allowance as % of gross revenue for the 7 largest publicly traded gaming operators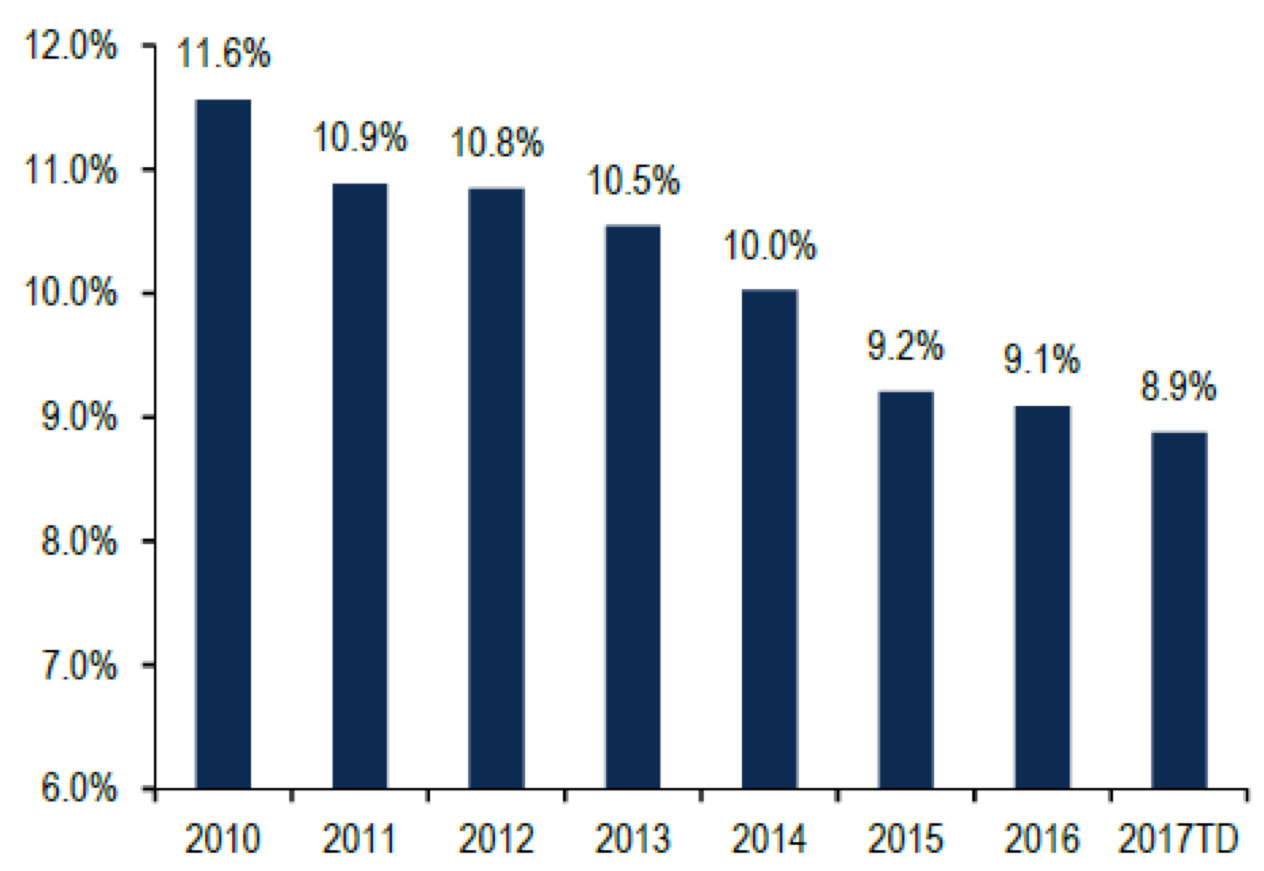 Source: Company reports, Bank of America Merrill Lynch Global Research
Some companies have found so many unprofitable customers to "fire" that they can generate meaningful earnings growth even with a shrinking revenue base. With the best operators spending only 5% of gross revenue on promotions, we expect that the industry has more room to keep optimizing their spending. Unfortunately for gamblers, this means that the free buffet offers may be a thing of the past.
This information is not intended to provide investment advice. Nothing herein should be construed as a solicitation, recommendation or an offer to buy, sell or hold any securities, market sectors, other investments or to adopt any investment strategy or strategies. You should assess your own investment needs based on your individual financial circumstances and investment objectives. This material is not intended to be relied upon as a forecast or research. The opinions expressed are those of Driehaus Capital Management LLC ("Driehaus") as of March 2018 and are subject to change at any time due to changes in market or economic conditions. The information has not been updated since March 2018 and may not reflect recent market activity. The information and opinions contained in this material are derived from proprietary and non-proprietary sources deemed by Driehaus to be reliable and are not necessarily all inclusive. Driehaus does not guarantee the accuracy or completeness of this informa­tion. There is no guarantee that any forecasts made will come to pass. Reliance upon information in this material is at the sole discretion of the reader.