With 2021 nearing a close, investors are naturally turning their attention to what 2022 will bring. For investors in consumer stocks, there is a lot of uncertainty regarding the trajectory and makeup of consumer spending given the impact of lapping record amounts of stimulus. Many are expecting spending growth to decelerate and the mix of consumer goods relative to services to swing back to a level more in line with historical patterns. The extent of this potential deceleration and the degree to which there is "payback" to be had in certain durable goods categories, for example, furniture is a key debate.
One starting point for attempting to triangulate prospects for consumer spending in 2022 is consumer balance sheets. RBC Capital Markets analysts estimate the average American household has accumulated $9,500 beyond what would have normally been saved since the pandemic. Similarly, the JPMorgan Chase Institute estimates median weekly checking account balances remain substantially higher relative to 2019, with the typical low-income family's cash balance 70% higher.
Exhibit One: Percent Change (relative to 2019) in Median Weekly Checking Account Balances, by Income Quartile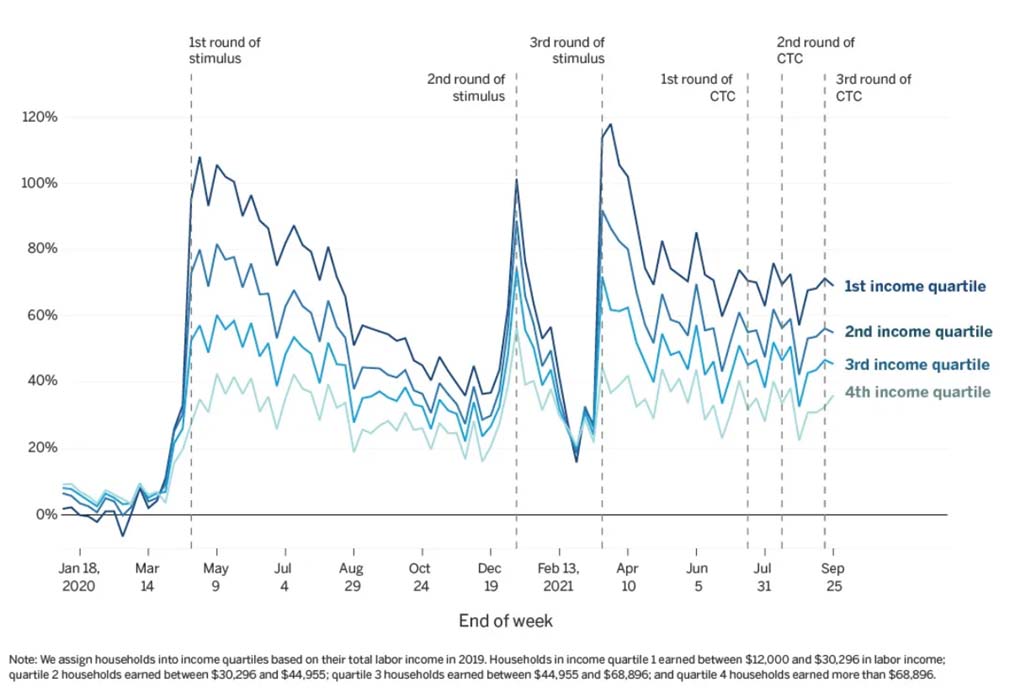 Source: JPMorgan Chase Institute
How this translates into spending in 2022 will be known soon enough but spending intent surveys can give some clues into how consumers plan to deploy their savings. The New York Fed's Survey of Consumer Expectations provides several datapoints showing how consumers of various demographic types are expecting to spend in the following year. Recent results are striking, with the cohort under $50k income reporting a marked acceleration in spending growth expectations to 9.2% in the November 2021 survey.
Exhibit Two: One-Year Ahead Household Spending Growth Expectations, Median Point Predictions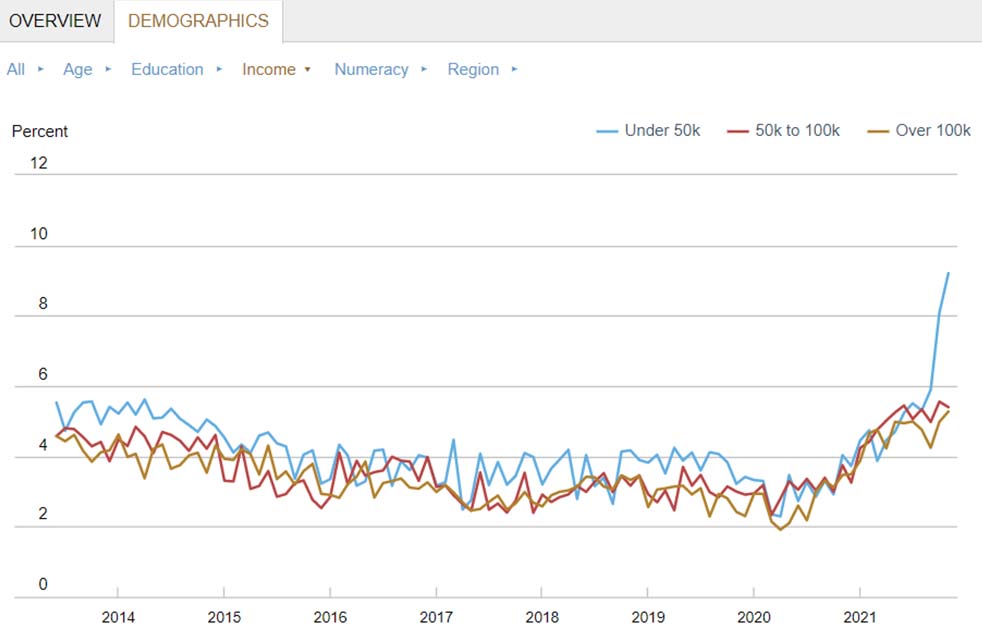 Source: New York Fed Survey of Consumer Expectations
Several risks to consumer spending exist such as new COVID variants, inflation, reduced fiscal stimulus and more restrictive monetary policy. However, we believe the record level of consumer savings and an intent to spend more aggressively in the year ahead point to a robust investing backdrop for consumer discretionary stocks.
This information is not intended to provide investment advice. Nothing herein should be construed as a solicitation, recommendation or an offer to buy, sell or hold any securities, market sectors, other investments or to adopt any investment strategy or strategies. You should assess your own investment needs based on your individual financial circumstances and investment objectives. This material is not intended to be relied upon as a forecast or research. The opinions expressed are those of Driehaus Capital Management LLC ("Driehaus") as of December 2021 and are subject to change at any time due to changes in market or economic conditions. The information has not been updated since December 2021 and may not reflect recent market activity. The information and opinions contained in this material are derived from proprietary and non-proprietary sources deemed by Driehaus to be reliable and are not necessarily all inclusive. Driehaus does not guarantee the accuracy or completeness of this informa­tion. There is no guarantee that any forecasts made will come to pass. Reliance upon information in this material is at the sole discretion of the reader.