Macroeconomic developments have begun to cause emerging market currencies to diverge. For non-local investment vehicles—such as U.S.-domiciled emerging markets mutual funds—such shifts represent a risk to net performance as increasing dispersions among currencies may hurt USD returns for associated equities. Figure 1 illustrates the growing divergence between the MSCI EM Index (yellow line) and the JP Morgan EM Currency Index (white line), indicating the increasing volatility of local EM currencies relative to equities.
Exhibit 1: MSCI EM Index versus JP Morgan EM Currency Index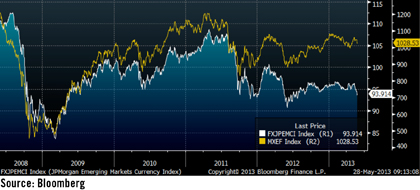 Given our active management approach and our synthesis of micro and macro research, we have accordingly pared back on selective areas where fundamentals may be jeopardized by sustained currency pressures. Some examples of tactical adjustments include decreases to positions in small markets such as Thailand and Indonesia, as well as to some defensively positioned companies where multiples have rerated ahead of fundamentals as a result of the low-rate, low-volatility environment.
As we ponder "where to go next," we are cognizant of investor expectations for the emerging markets (Figure 2). Sentiment toward the asset class continues to linger at multi-year lows, reflecting pessimistic expectations among institutional investors. Accordingly, risk/reward profiles for certain companies, countries and sectors continue to shift. Through timely fundamental analysis we intend to adapt to the continually changing landscape.
Exhibit 2: Net % of Global Investors Overweight to EM Equities at Lowest Level since March 2011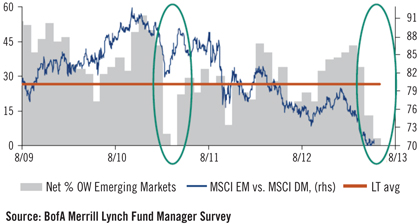 This information is not intended to provide investment advice. Nothing herein should be construed as a solicitation, recommendation or an offer to buy, sell or hold any securities, market sectors, other investments or to adopt any investment strategy or strategies. You should assess your own investment needs based on your individual financial circumstances and investment objectives. This material is not intended to be relied upon as a forecast or research. The opinions expressed are those of Driehaus Capital Management LLC ("Driehaus") as of May 2013 and are subject to change at any time due to changes in market or economic conditions. The information has not been updated since May 2013 and may not reflect recent market activity. The information and opinions contained in this material are derived from proprietary and non-proprietary sources deemed by Driehaus to be reliable and are not necessarily all inclusive. Driehaus does not guarantee the accuracy or completeness of this informa­tion. There is no guarantee that any forecasts made will come to pass. Reliance upon information in this material is at the sole discretion of the reader.