One of the hallmark promises made by President Trump during his campaign was that he would reduce regulations and unleash economic activity that had been held back by the heavy hand of government regulators under previous administrations. In the first year of the Trump administration, this promise to eliminate the burden of regulations was kept. The pages in the Federal Register, which fell to the lowest since 1992, demonstrates this.
Exhibit 1: Pages in Federal Register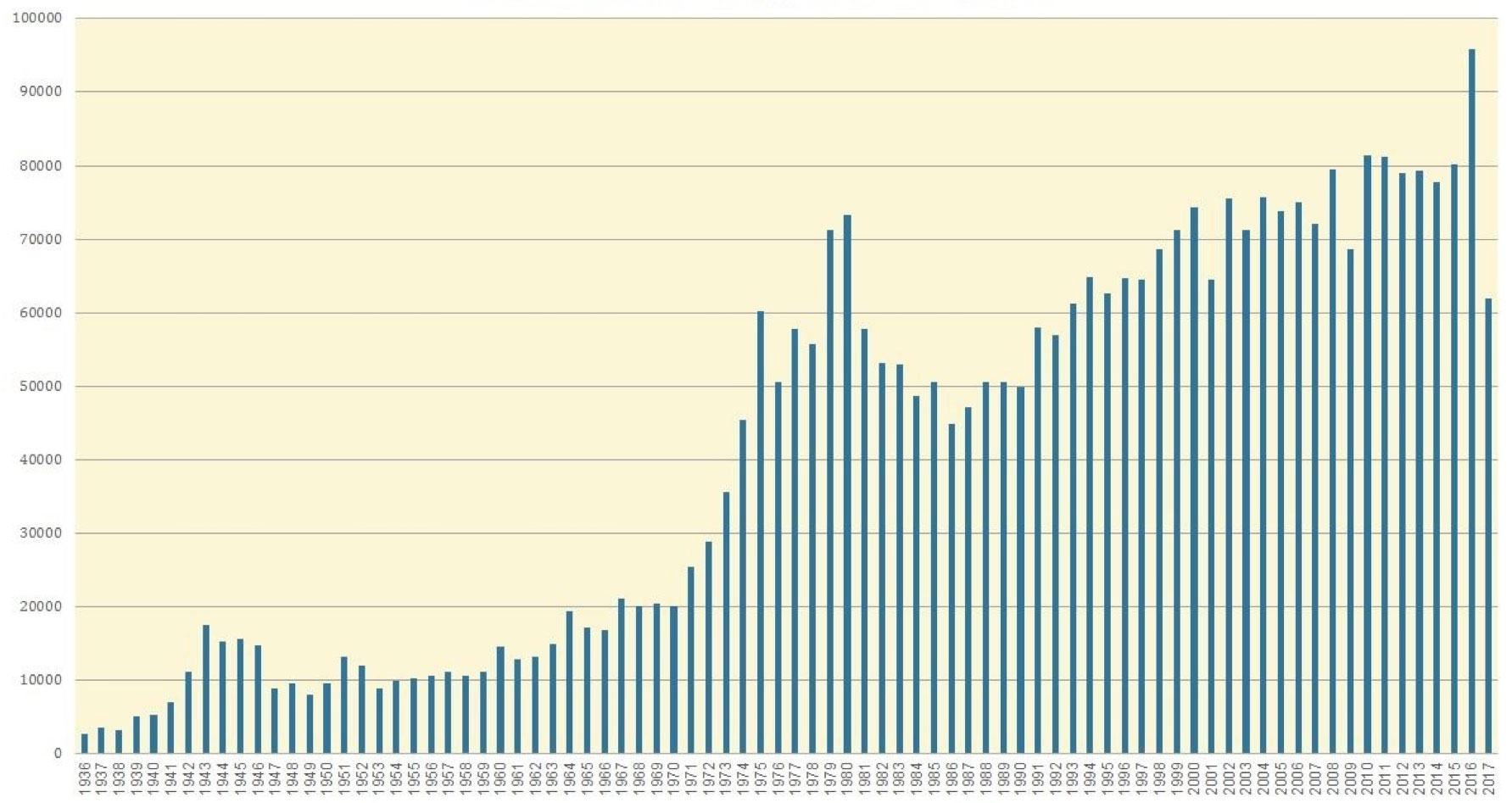 Source: GW Regulatory Studies Center
Another measure of regulatory activity is the issuance of economically significant rules. These are rules that have an annual effect on the economy of $100 million or more. This measure showed Trump's first year in office was the least active since 1982.
Exhibit 2: Economically significant final rules published by presidential year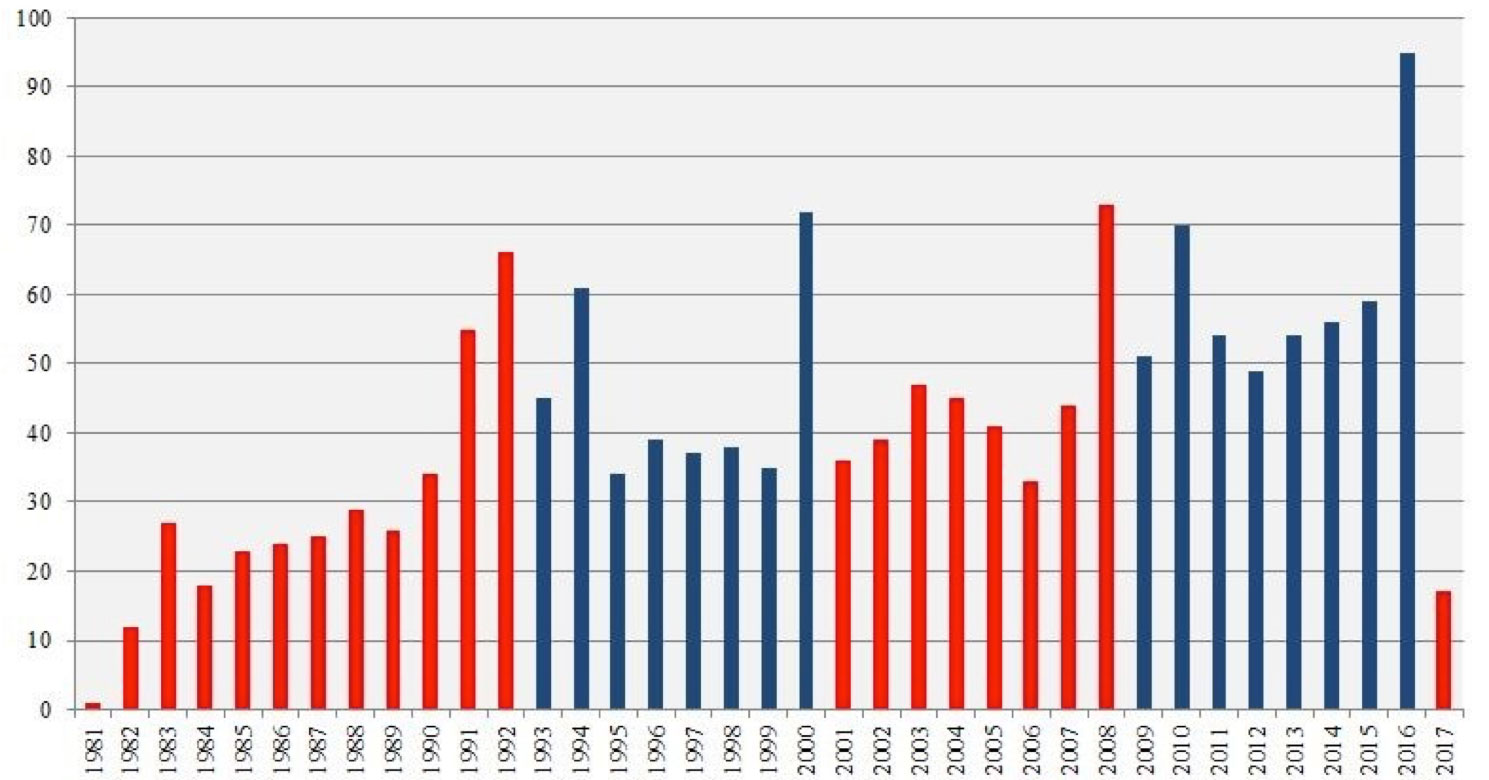 Source: GW Regulatory Studies Center
While it is difficult to measure the impact of a reduction in federal regulations, the National Federation of Independent Business' survey showed small businesses have become much less likely to point to government and red tape as a top concern after Trump took office.
Exhibit 3: NFIB Small Business Economic Trends, Percent Citing Government Requirements & Red Tape as Their Single Greatest Problem (3-Month Moving Average)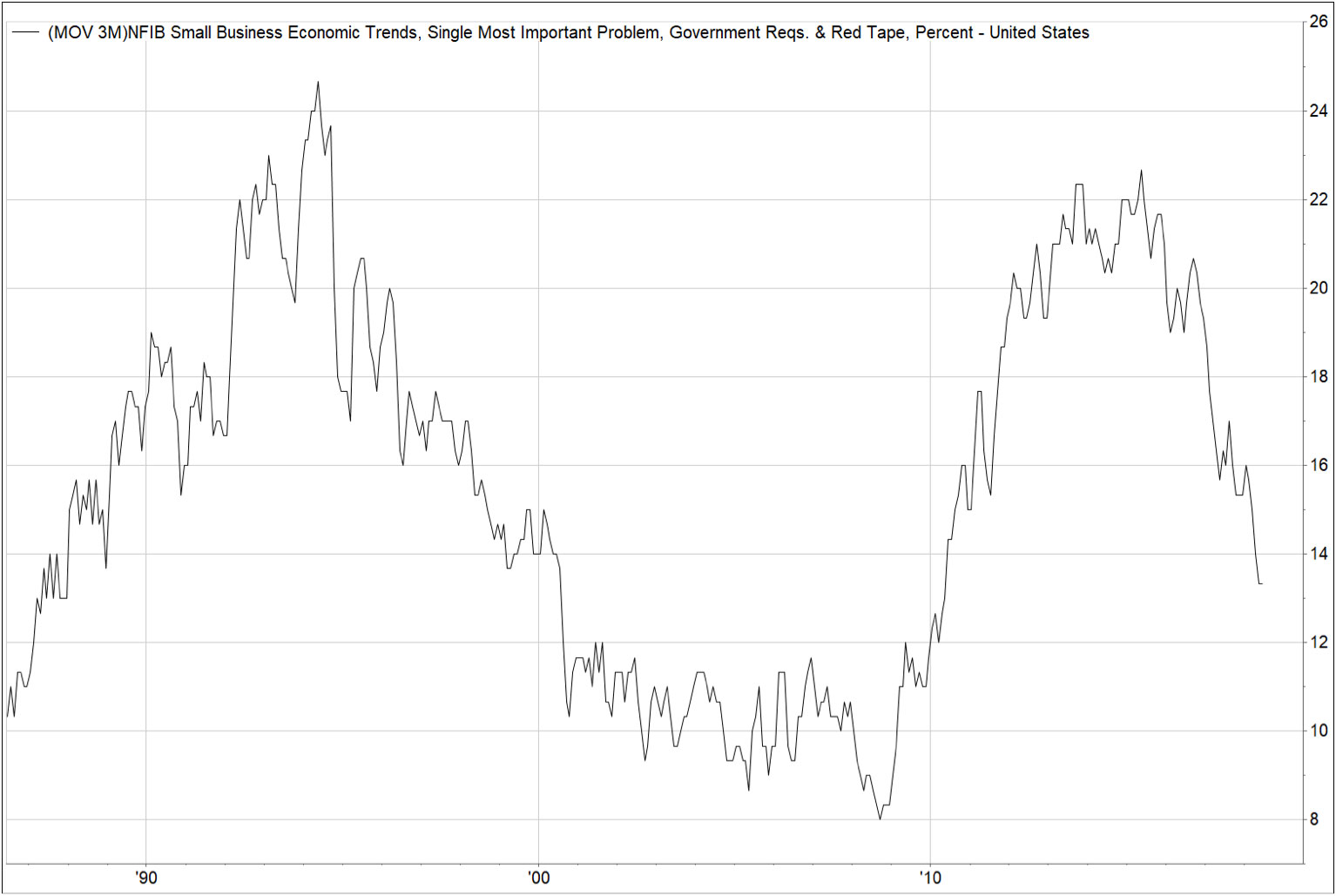 While many of the companies in which we invest have benefitted from a reduced regulatory burden, one industry stands out: for-profit education. For-profit education companies were at times public enemy number one for the Obama administration's Department of Education as more onerous restrictions were implemented regarding qualifications to participate in the federal student loan program. Increased scrutiny of marketing practices and student outcomes caused enrollments to decline sharply and three public companies eventually went bankrupt.
After the election of President Trump investor sentiment rapidly improved. Newly-appointed Education Secretary Betsy DeVos justified this optimism by hiring several advisors from the for-profit education industry. Results at many of the companies have significantly improved and an equal-weighted index of eight for-profit education stocks has risen over 125% since the election.
Exhibit 4: Equal-Weighted Index of Eight For-Profit Education Stocks

Recent press reports have indicated that the Department of Education is planning to eliminate the gainful employment rule that requires for-profit colleges to disclose if their graduates earn enough to pay off loans needed to cover tuition. This was one of the most hotly contested rules instituted by the Obama administration and its elimination would be a big victory for the for-profit education industry. Ironically, Obama's tough rules that put some of the weakest players out of business have likely meaningfully benefitted the remaining companies, and when coupled with a friendlier political environment have yielded outsized returns for the stocks in the group.
This information is not intended to provide investment advice. Nothing herein should be construed as a solicitation, recommendation or an offer to buy, sell or hold any securities, market sectors, other investments or to adopt any investment strategy or strategies. You should assess your own investment needs based on your individual financial circumstances and investment objectives. This material is not intended to be relied upon as a forecast or research. The opinions expressed are those of Driehaus Capital Management LLC ("Driehaus") as of August 2018 and are subject to change at any time due to changes in market or economic conditions. The information has not been updated since August 2018 and may not reflect recent market activity. The information and opinions contained in this material are derived from proprietary and non-proprietary sources deemed by Driehaus to be reliable and are not necessarily all inclusive. Driehaus does not guarantee the accuracy or completeness of this informa­tion. There is no guarantee that any forecasts made will come to pass. Reliance upon information in this material is at the sole discretion of the reader.