Diabetes may garner significant attention amongst healthcare professionals in the US, but there is an emerging market country with a diabetes problem that is concerning on a much larger scale. That country is China, where more than 110 million people suffer from the disease – nearly four times the number of patients in the US. This earns China the unfortunate status of having the largest diabetes population in the world, which also happens to be growing much faster than the global average (Exhibit 1).
Exhibit 1: Number of Diabetes Patients in China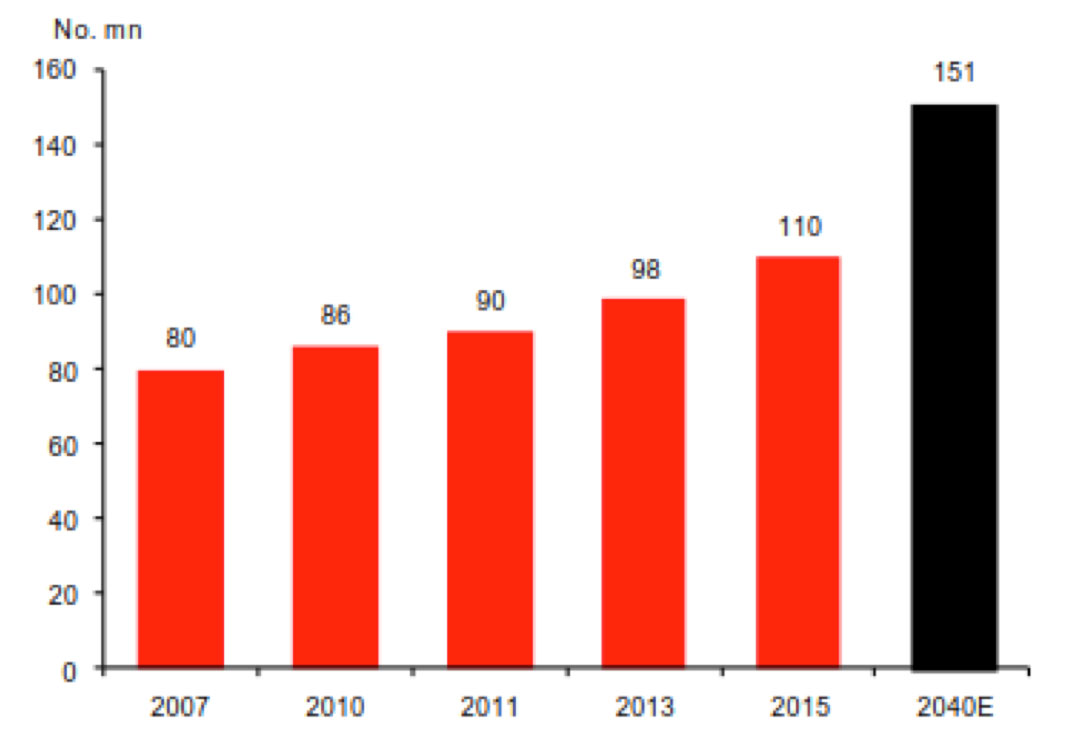 Source: EDF, Macquarie Research
Even as China's overall population growth has slowed to a crawl, the country's diabetes population is growing approximately 5% annually. Two key factors have contributed to this divergence, demographics and lifestyle. In the case of demographics, China's rapidly aging population has driven up the incidence of diabetes, which is positively correlated with age. In the case of lifestyle, while rising emerging market per capita incomes produce many benefits, they also often drive a shift toward more "Western" lifestyles, increasing incidences of lifestyle diseases such as diabetes (Exhibit 2).
Exhibit 2: Diabetes Incidence Rate Among Age Groups (2014)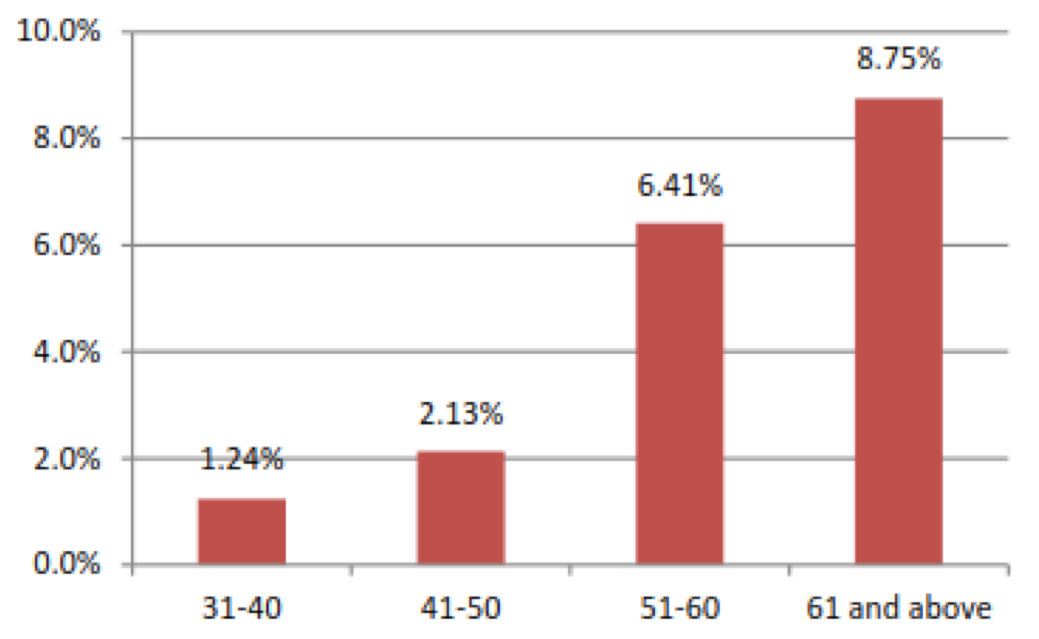 Source: IDF, Macquarie Research
Unfortunately, China has struggled to keep pace with this growing problem. Its treatment rate is estimated at only about 15%, which is one of the lowest levels of any major country globally (treatment rates in developed markets are north of 50%). While numerous factors have historically contributed to China's low treatment rate, the trend appears poised to shift, catalyzed by government initiatives.
The most important initiative is improving treatment reimbursement. The vast majority of Chinese citizens are covered by a national insurance system, and the government continues to add new diabetes products to its reimbursement list and increase the rate of reimbursement for existing products. Another key initiative is improving doctor training (particularly in lower-tier cities) to enhance diabetes diagnosis and treatment. When the Chinese government puts its weight behind a policy, the desired outcome is typically achieved, and we expect diabetes to be no different.
Improving patient affordability and more adept diagnosis should increase treatment rates moving forward. This rising treatment rate, coupled with continued growth in the diabetes population, should drive mid-teens annual growth for the overall diabetes treatment market over the coming years. This level of organic growth is rarely found in any segment of the global healthcare industry, even in emerging markets.
Such powerful growth will provide significant opportunity for diabetes product and service providers over the coming years. We have found one such opportunity in the leading Chinese insulin producer. In addition to strong demand tailwinds, the company benefits from high barriers to entry (insulin is difficult to produce at commercial scale), industry leading cost of production, and superior sales and distribution capabilities. We remain on the lookout for similar opportunities in the future.
This information is not intended to provide investment advice. Nothing herein should be construed as a solicitation, recommendation or an offer to buy, sell or hold any securities, market sectors, other investments or to adopt any investment strategy or strategies. You should assess your own investment needs based on your individual financial circumstances and investment objectives. This material is not intended to be relied upon as a forecast or research. The opinions expressed are those of Driehaus Capital Management LLC ("Driehaus") as of March 2018 and are subject to change at any time due to changes in market or economic conditions. The information has not been updated since Match 2018 and may not reflect recent market activity. The information and opinions contained in this material are derived from proprietary and non-proprietary sources deemed by Driehaus to be reliable and are not necessarily all inclusive. Driehaus does not guarantee the accuracy or completeness of this informa­tion. There is no guarantee that any forecasts made will come to pass. Reliance upon information in this material is at the sole discretion of the reader.