Industrial automation, which is the use of control systems such as computers or robots and information technologies for handling different processes and machineries to replace human workers, is a fast growing area in an otherwise mature manufacturing and logistics industry. Starting in the 1990s, manufacturing activities shifted from western geographies with high labor costs to Asia and other lower labor cost geographies. With much of these cost benefits largely harvested and wages starting to increase steadily even in low cost areas, manufacturing companies are turning to new technologies to reduce costs and maintain profit margins. Industrial automation has emerged as the big frontier for new investments as the technology is sufficiently mature and costs to automate can be rationalized. The graph below (Exhibit 1) shows the adoption level of various technologies relative to their maturity.
Exhibit 1: Adoption Level of Technologies Relative to Maturity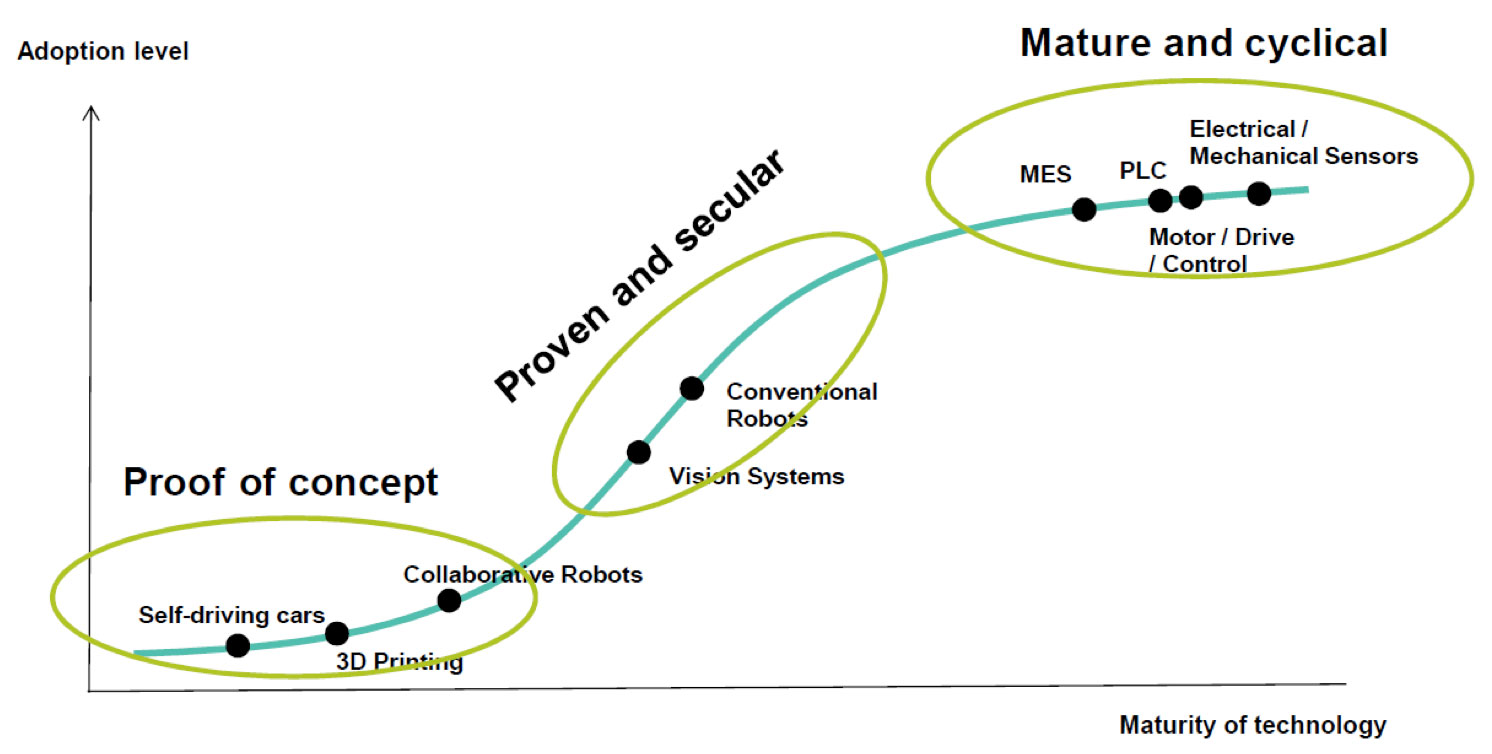 Source: Bernstein Research
Conventional robots and vision systems are in the sweet spot of their adoption curves. Machine vision systems are essential in deploying true industrial automation. This technology enables 100% in-line inspection for efficiency, cost and quality improvement and makes the implementation of next generation robots and automated logistics possible. Additionally, the adoption of machine vision reinforces the adoption of robots and vice versa. Within robots, as vision sensor adoption increases, vision guided robots gain share. While the automotive, consumer electronics and semiconductor industries were the first adopters of vision systems in implementing overall industrial automation, machine vision adoption is ramping up in new industries such as logistics and pharmaceuticals. Bernstein Research/IHS estimates the market size for machine vision systems at $14.6 billion with a compound annual growth rate of 13% over the next 4-5 years, reaching $20 billion by the year 2020.
Exhibit 2: Market Size of Vision Systems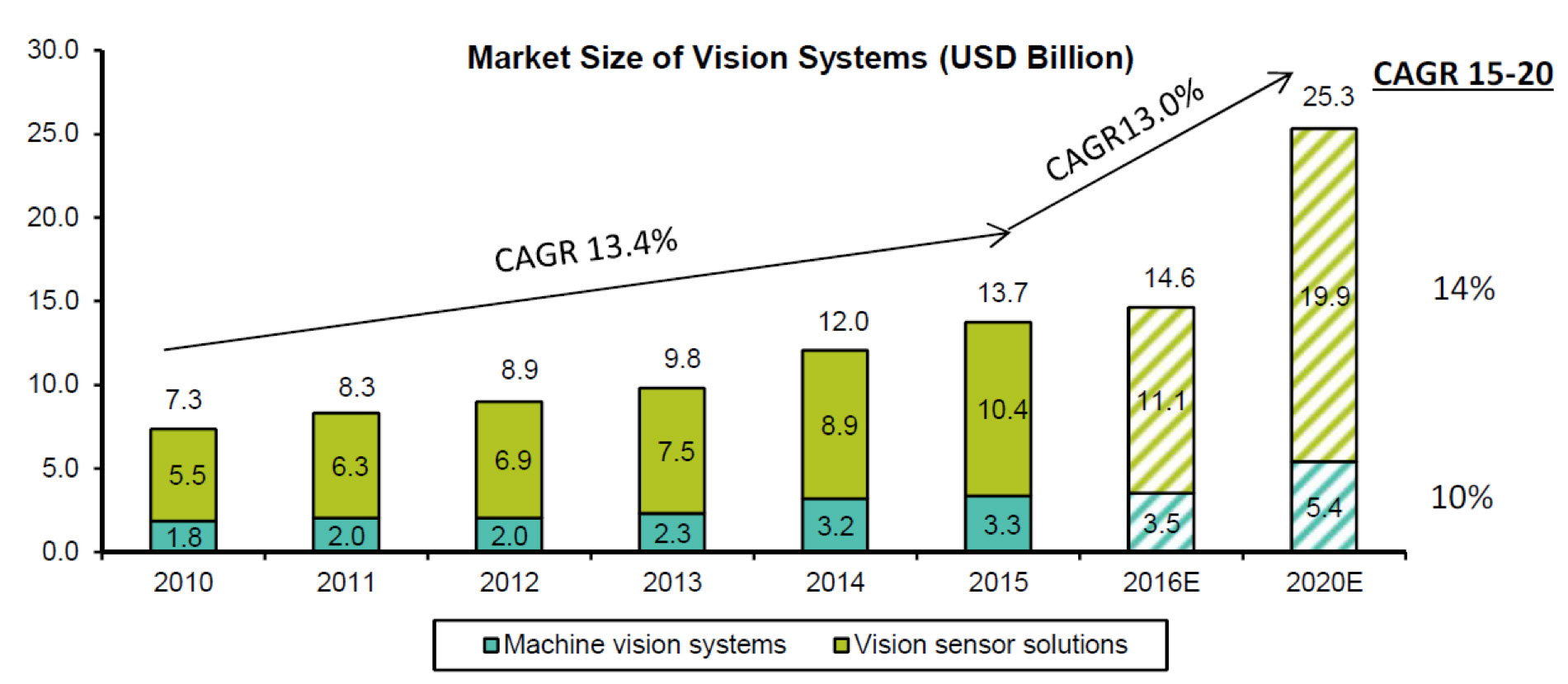 Source: Bernstein Research, IHS
In addition to strong market expansion expected for machine vision systems, leading vendors enjoy 70%+ gross margins, some of the highest seen amongst industrial automation vendors. Margins are expected to be sustainable at elevated levels because these machine vision systems are built from commodity components and much of the value-add is functional design, product architecture and software. Barriers to entry for new entrants are very high and existing vendors are well entrenched with deep technical expertise.
At Driehaus, we are focusing our efforts on identifying attractive growth investment opportunities in innovative companies that are uniquely positioned to post robust growth as key suppliers in enabling industrial automation, including key machine vision system vendors.
This information is not intended to provide investment advice. Nothing herein should be construed as a solicitation, recommendation or an offer to buy, sell or hold any securities, market sectors, other investments or to adopt any investment strategy or strategies. You should assess your own investment needs based on your individual financial circumstances and investment objectives. This material is not intended to be relied upon as a forecast or research. The opinions expressed are those of Driehaus Capital Management LLC ("Driehaus") as of May 2017 and are subject to change at any time due to changes in market or economic conditions. The information has not been updated since May 2017 and may not reflect recent market activity. The information and opinions contained in this material are derived from proprietary and non-proprietary sources deemed by Driehaus to be reliable and are not necessarily all inclusive. Driehaus does not guarantee the accuracy or completeness of this informa­tion. There is no guarantee that any forecasts made will come to pass. Reliance upon information in this material is at the sole discretion of the reader.