Building product suppliers are experiencing an outsized benefit from the slow but steady housing market recovery. While homebuilder demand is more correlated to new starts and new home sales, building product suppliers get a boost in demand from new home sales as well as existing home sales. As shown in Exhibit 1, new and existing home sales continue to recover from their respective lows in 2010 and 2011, with new home sales recently accelerating to a new high in July of 654,000 units, which represents an increase of 31% year over year.
Exhibit 1: New home (top) and existing home sales (bottom) recovering from lows in 2010-2011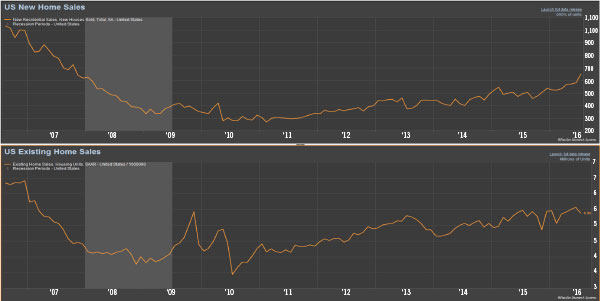 Another important indicator to building suppliers is existing home prices (Exhibit 2), which also hit new highs recently. While this has stifled turnover to an extent, it has been a tailwind for home repair and remodel activity. As home values appreciate, it bolsters homeowners' confidence and encourages banks to increase home equity lending, allowing consumers to undertake repair or remodeling projects. These projects include, but are not limited to, new cabinets, plumbing, windows, doors and locks, wallboard, HVAC, water heaters, flooring, and roofing. In 2016, we have benefitted from owning companies whose sales are over-indexed to repair and remodel activity instead of new construction. We continue to hold these micro and small cap names and remain positive about their outlook for the remainder of the year.
Exhibit 2: Existing home prices have also hit new highs recently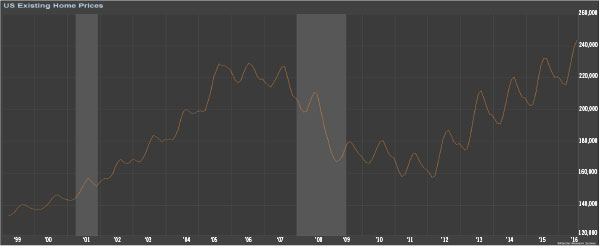 This information is not intended to provide investment advice. Nothing herein should be construed as a solicitation, recommendation or an offer to buy, sell or hold any securities, market sectors, other investments or to adopt any investment strategy or strategies. You should assess your own investment needs based on your individual financial circumstances and investment objectives. This material is not intended to be relied upon as a forecast or research. The opinions expressed are those of Driehaus Capital Management LLC ("Driehaus") as of August 2016 and are subject to change at any time due to changes in market or economic conditions. The information has not been updated since August 2016 and may not reflect recent market activity. The information and opinions contained in this material are derived from proprietary and non-proprietary sources deemed by Driehaus to be reliable and are not necessarily all inclusive. Driehaus does not guarantee the accuracy or completeness of this informa­tion. There is no guarantee that any forecasts made will come to pass. Reliance upon information in this material is at the sole discretion of the reader.