India has one of the lowest smartphone penetrations in the region (Exhibit 1) with strong potential for an acceleration in subscriber growth and increased data usage over the next few years. Smartphone demand will likely be driven by:
An underdeveloped fixed-line network;
Demand for messaging, social media, and streaming video; and
eCommerce and financial transactions.
India's low level of smartphone penetration is in part due to low incomes and an underdeveloped telecom network. Elsewhere in the region, we've seen J-curve accelerations of user penetration following network rollouts and improvements. India, with only a 13% smartphone penetration, likely has significant pent-up demand for smartphones that will drive a similar acceleration in user growth and data usage.
Exhibit 1: Data usage versus smartphone penetration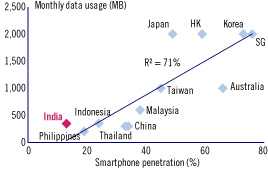 The challenges of low family incomes and an insufficient network are being overcome (Exhibit 2) as an inflow of cheap smartphones from China are making the technology more accessible to low-income Indian families. Access to cheap smartphones is coinciding with new spectrum and investment in towers and base stations, which are creating a high quality network that can handle the high traffic volume and deliver a reasonable online experience. We believe the combination of these two factors will create opportunities for growth investors in select mobile companies.
Exhibit 2: Mobile data subscriber growth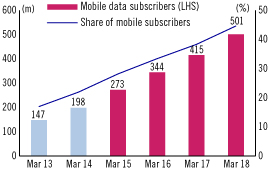 Source: CLSA, TRAI (Telecom Regulatory Authority of India)
This information is not intended to provide investment advice. Nothing herein should be construed as a solicitation, recommendation or an offer to buy, sell or hold any securities, market sectors, other investments or to adopt any investment strategy or strategies. You should assess your own investment needs based on your individual financial circumstances and investment objectives. This material is not intended to be relied upon as a forecast or research. The opinions expressed are those of Driehaus Capital Management LLC ("Driehaus") as of April 2015 and are subject to change at any time due to changes in market or economic conditions. The information has not been updated since April 2015 and may not reflect recent market activity. The information and opinions contained in this material are derived from proprietary and non-proprietary sources deemed by Driehaus to be reliable and are not necessarily all inclusive. Driehaus does not guarantee the accuracy or completeness of this informa­tion. There is no guarantee that any forecasts made will come to pass. Reliance upon information in this material is at the sole discretion of the reader.