The Internet of Things (IoT) is a major trend in technology that is leading to the transformation of multiple industry verticals. In simple terms, it is a methodology to connect everyday objects to the internet, thereby allowing data transmission and user control (Exhibit 1). Internet of Things is powered by sensors, embedded software, and IP technology, which enables users to access data gathered by the object or to control the object. Users can then, for example, analyze the data to improve cost and operational efficiency.
Exhibit 1: A schematic of the Internet of Things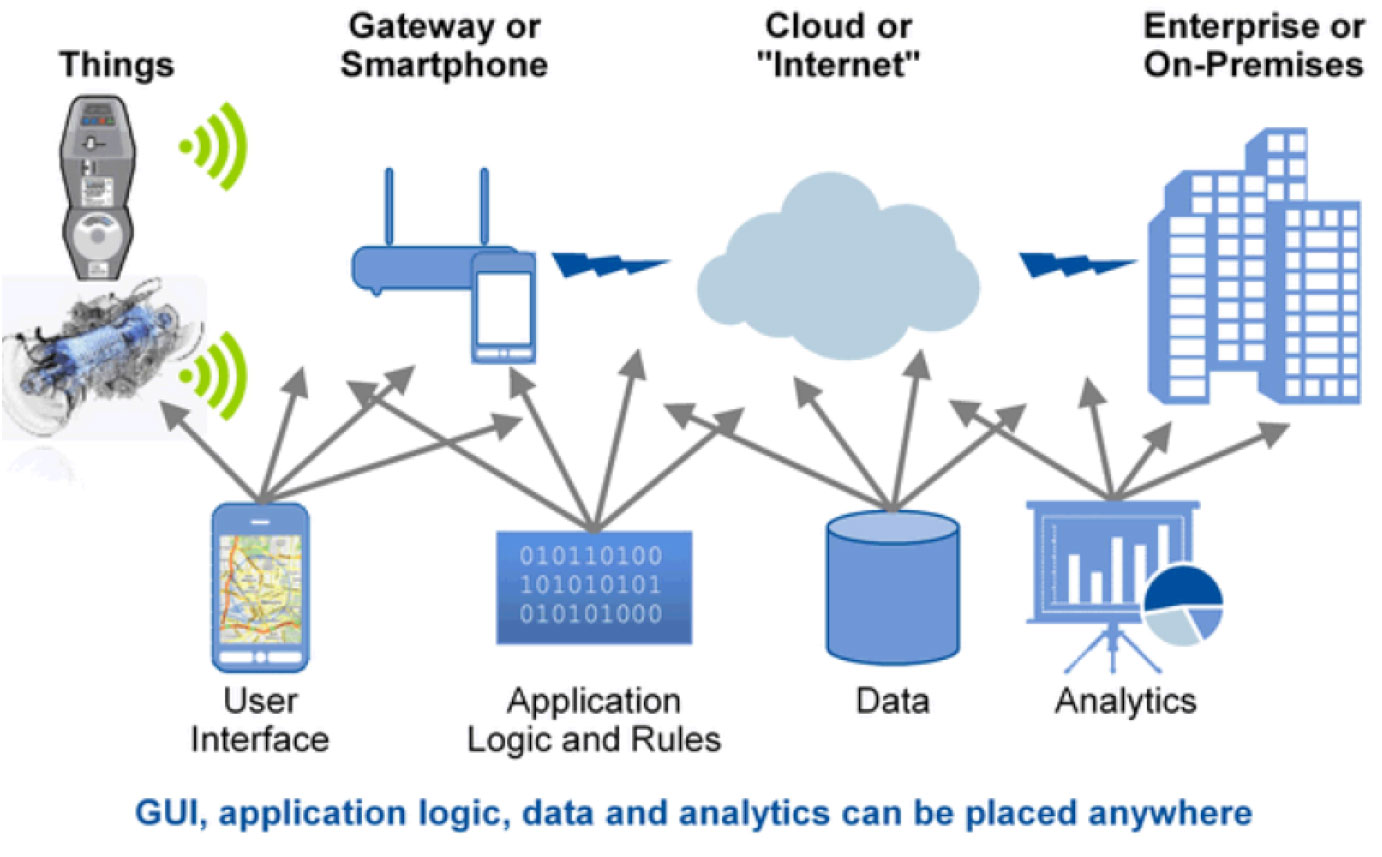 The Internet of Things is essentially the intersection of both machine-to-machine learning (M2M) and operational technology with connectivity over the internet. This is enabled by adding a small internet-connected sensor to an everyday object (for example, a home alarm system), thereby allowing control and operation over the internet. The homeowner can remotely access, control, disarm and change the settings of the home alarm using a smartphone or any internet-connected device.
The automobile industry was an early adopter of IoT. M2M sensor costs were expensive and products had to be priced high enough to justify incorporating them, such as within a new car. But as the cost of sensors has dropped to pennies, numerous industries are in the early stages of adoption—ranging from bar codes in retail-sold apparel, to a water heater or a sprinkler system in a home, to drug labels, to tires on a vehicle that measures wear and tear. This very broad adoption of IoT is resulting in a sharp inflection in growth rate as multiple industries are expected to adopt IoT over the next five years. According to research by Gartner, IoT unit shipments are expected to grow from 4.9 million units in 2015 to almost 21 million units by 2020 (Exhibit 2).
Exhibit 2: Estimated growth of Internet of Things units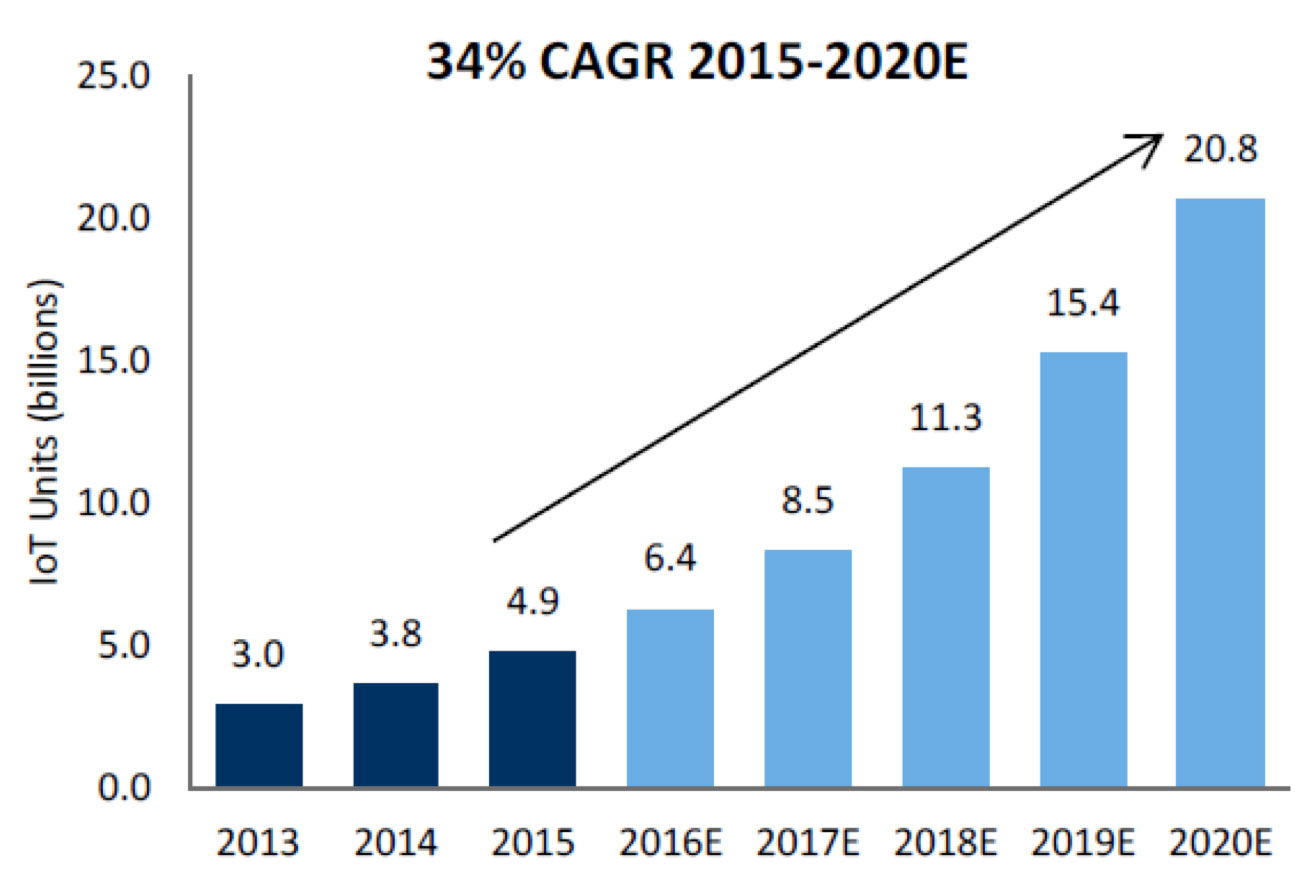 At Driehaus, we are focused on identifying attractive growth investment opportunities in innovative companies that are uniquely positioned to post robust growth as key suppliers that enable the IoT trend. We believe there will be robust growth in this space for multiple years to come, as the industries that can adopt and benefit from this technology is broad and adoption is at its infancy.
This information is not intended to provide investment advice. Nothing herein should be construed as a solicitation, recommendation or an offer to buy, sell or hold any securities, market sectors, other investments or to adopt any investment strategy or strategies. You should assess your own investment needs based on your individual financial circumstances and investment objectives. This material is not intended to be relied upon as a forecast or research. The opinions expressed are those of Driehaus Capital Management LLC ("Driehaus") as of December 2016 and are subject to change at any time due to changes in market or economic conditions. The information has not been updated since December 2016 and may not reflect recent market activity. The information and opinions contained in this material are derived from proprietary and non-proprietary sources deemed by Driehaus to be reliable and are not necessarily all inclusive. Driehaus does not guarantee the accuracy or completeness of this informa­tion. There is no guarantee that any forecasts made will come to pass. Reliance upon information in this material is at the sole discretion of the reader.