The fall in oil prices over the last seven months has far-reaching implications for the global economy. Some are straightforward, like consumers being able to eat out and shop more because they don't have to spend as much on gasoline. Others are less direct. For instance, lower oil prices lead to a reduction in government spending on fuel subsidies in countries such as Indonesia and India. Lower prices also provide the opportunity to reduce subsidies without shocking the population. Money that would have been spent on subsidies can be redirected toward investments that boost productivity, a key driver of economic growth.
In India, fuel subsidies have sharply risen as a percentage of government spending over the last five years (Exhibit 1). If oil prices were to average $65 per barrel next year (over 30% above the current market price) the government could save $45 billion in annual spending. Some of this money will almost certainly be earmarked for investment in the country's highways, railways and ports. Not only are they in dire need of modernization, but better infrastructure is positive for the broader economy as goods can be delivered faster, cheaper and more reliably.
Exhibit 1: Fuel Subsidy as a Percentage of Indian Government Spending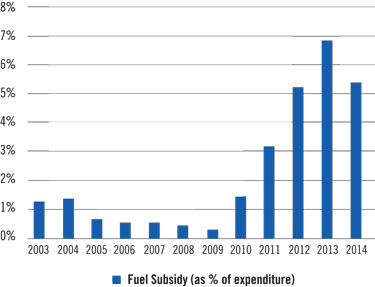 Aside from the road, rail and port operators themselves, we expect cement companies and engineering and construction firms to see new orders accelerate. Banks will also benefit as the demand for project financing grows. We often find that it is the second- or third-degree effect of a change that produces the most attractive investment opportunities. While bottom-up stock analysis is the core of our investment process at Driehaus, we believe the strategic integration of macro analysis allows us to have a more nuanced view of the implications of shifts in the global economy.
This information is not intended to provide investment advice. Nothing herein should be construed as a solicitation, recommendation or an offer to buy, sell or hold any securities, market sectors, other investments or to adopt any investment strategy or strategies. You should assess your own investment needs based on your individual financial circumstances and investment objectives. This material is not intended to be relied upon as a forecast or research. The opinions expressed are those of Driehaus Capital Management LLC ("Driehaus") as of February 2015 and are subject to change at any time due to changes in market or economic conditions. The information has not been updated since February 2015 and may not reflect recent market activity. The information and opinions contained in this material are derived from proprietary and non-proprietary sources deemed by Driehaus to be reliable and are not necessarily all inclusive. Driehaus does not guarantee the accuracy or completeness of this informa­tion. There is no guarantee that any forecasts made will come to pass. Reliance upon information in this material is at the sole discretion of the reader.