The Brazilian election season, which had seen near mass hysteria since summer, concluded on October 26. The following day, Brazil's Bovespa Index finished trading less than 2% from its closing level on April 1. Given the market volatility driven by events throughout the campaign—including one contender dying in a plane crash and two opposition candidates each leading the polls prior to the election—the lack of performance deviation over this period is remarkable. As Exhibit 1 illustrates, much of the lackluster performance can be attributed to the flat-to-negative earnings revisions. Without meaningful fundamental changes to company earnings forecasts, traders were left to jostle the market relentlessly on the back of daily macro events.
Exhibit 1: Brazil 2014 Earnings per Share (EPS) Revisions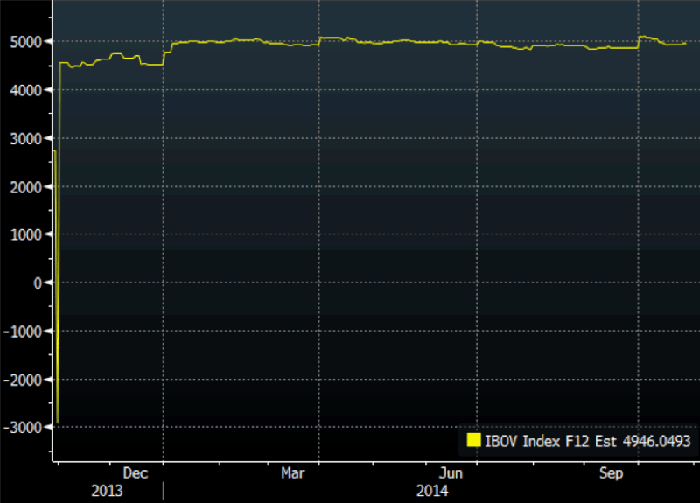 Ultimately, however, the poor fundamental environment translated into muted stock price performance. The overall direction of EMBI (emerging market bond index) spreads proved much more prescient in projecting Brazil's performance, as shown in Exhibit 2.
Exhibit 2: Emerging Market Bond Index Spreads (shaded) vs. BOVESPA Index (inverted, yellow)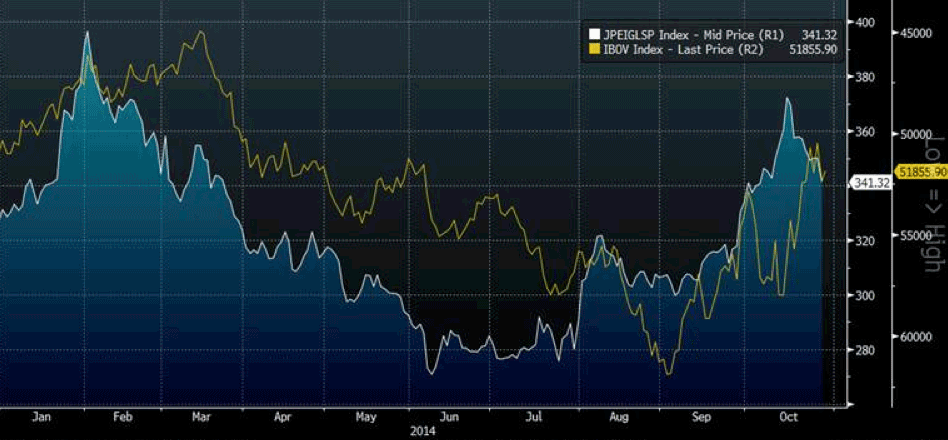 The haphazard summer in Brazil illustrates a reality of emerging market investing—namely that macro and exogenous events can and often do significantly affect asset prices in the near term. Nonetheless, corporate fundamentals will dictate the extent to which equity prices sustainably change over the long term. At Driehaus, we focus on building portfolios through bottom-up stock analysis, yet we strategically incorporate macro analysis into our portfolio management. Our integrated approach continues to enable us to navigate situations such as the Brazil election period with discipline and a focus on longer-term opportunities.
This information is not intended to provide investment advice. Nothing herein should be construed as a solicitation, recommendation or an offer to buy, sell or hold any securities, market sectors, other investments or to adopt any investment strategy or strategies. You should assess your own investment needs based on your individual financial circumstances and investment objectives. This material is not intended to be relied upon as a forecast or research. The opinions expressed are those of Driehaus Capital Management LLC ("Driehaus") as of November 2014 and are subject to change at any time due to changes in market or economic conditions. The information has not been updated since November 2014 and may not reflect recent market activity. The information and opinions contained in this material are derived from proprietary and non-proprietary sources deemed by Driehaus to be reliable and are not necessarily all inclusive. Driehaus does not guarantee the accuracy or completeness of this informa­tion. There is no guarantee that any forecasts made will come to pass. Reliance upon information in this material is at the sole discretion of the reader.