Thanks to the Affordable Care Act (ACA) and an aging baby-boomer population, more consumers are now receiving health care than ever before, which is driving considerable volume growth at hospitals (Exhibit 1). About 9.9 million consumers have paid their premiums as of June 2015 under the ACA, and this number is expected to grow 20 million more. This cohort is thought to be receiving 2.6 times more care than those uninsured. Demographic trends are also creating demand as patients above 55 years old are growing 2.5 times faster than the younger population, and they are spending twice as much on medical care.
Exhibit 1: Inpatient volumes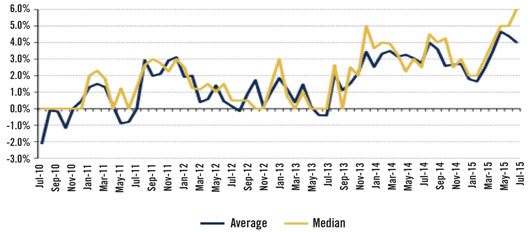 Source: BofA Merrill Lynch Global Research
From a supply perspective, a shortage of registered nurses has made it difficult for hospitals to appropriately staff their facilities. This is creating an imbalance that is forcing hospitals to use nurse staffing companies to fill job orders. Health care employee attrition, aging demographics, and elongated education requirements are all to blame. As shown in Exhibit 2, employee attrition is climbing in large part due to its counter-cyclical nature. As the economy improves, the financial burden on households mitigates, reducing the need for multiple members of the household to work.
Exhibit 2: Employee attrition in health care is rising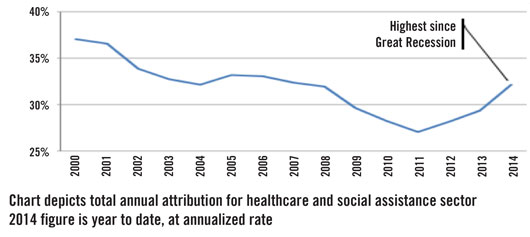 Source: Avondale Partners calculations, US Bureau of Labor Statistics data
In conjunction with nurses leaving their jobs for economic reasons, an aging nurse population is resulting in accelerating retirements.
The source of replacement for these nurses shifts to the educators. Degreed nurses are preferred by employers, as they are capable of performing more tasks and can be more easily levered by the hospital. However, longer educational periods are not conducive to replenishing the nursing pool in a timely fashion.
The effects of these trends began to manifest in the nurse staffing stocks about one year ago as hospital admissions and nurse job postings inflected. Due to the structural nature of the forces at work, we continue to view these companies favorably. As volumes across their platforms continue to rise and customers utilize these companies' technological services that carry higher margins, outsized earnings growth remains achievable.
This information is not intended to provide investment advice. Nothing herein should be construed as a solicitation, recommendation or an offer to buy, sell or hold any securities, market sectors, other investments or to adopt any investment strategy or strategies. You should assess your own investment needs based on your individual financial circumstances and investment objectives. This material is not intended to be relied upon as a forecast or research. The opinions expressed are those of Driehaus Capital Management LLC ("Driehaus") as of September 2015 and are subject to change at any time due to changes in market or economic conditions. The information has not been updated since September 2015 and may not reflect recent market activity. The information and opinions contained in this material are derived from proprietary and non-proprietary sources deemed by Driehaus to be reliable and are not necessarily all inclusive. Driehaus does not guarantee the accuracy or completeness of this informa­tion. There is no guarantee that any forecasts made will come to pass. Reliance upon information in this material is at the sole discretion of the reader.