Many years ago, antibiotics were a major class of drugs for the pharmaceutical industry. However, during much of the last two decades, the FDA has been difficult to work with in establishing the safety and efficacy of new antibiotic drugs. This resulted in a massive slowing of new antibiotic approvals and, in response, many major pharmaceutical companies abandoned antibiotic development altogether (Exhibit 1).
Exhibit 1: Declining rate of antibiotic approvals over the last three decades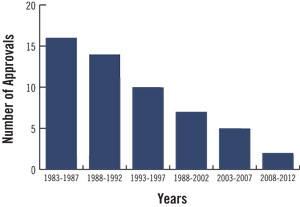 Source: Spellberg et al.; BCIQ: BioCentury Online Intelligence
Chances are good that you've heard about the overuse of antibiotics and antibiotic resistance. If you haven't, the quick-and-dirty is that antibiotics are widely prescribed, and oftentimes are prescribed without the knowledge of whether a bacterial infection is present. However, regardless of whether antibiotics are overused, the reality is that bacteria divide rapidly, and those bacteria that are treated with an antibiotic and live become more resilient. This is Darwinism at work.
With increasing antibiotic resistance and the near-absence of new antibiotic development, US legislators took steps to create new incentives for the pharmaceutical industry to develop new drugs to combat bugs and superbugs. In 2012 Congress passed a law called the Generating Antibiotic Incentives Now [GAIN] Act, and in July 2012 it was signed into law. The GAIN Act arguably ushered in a new era of antibiotic development.
The GAIN Act incents the pharmaceutical industry to develop new antibiotics by expediting the regulatory process and increasing the guaranteed period of exclusivity for new drugs. Specifically, GAIN requires the FDA to move quickly to establish goalposts for a new agent's development program, and it requires that antibiotics be reviewed on an expedited timeline, which includes automatic granting of the fast track designation and priority review. Fast track allows a pharmaceutical sponsor to submit a rolling application, as opposed to the normal requirement for a complete package submission. This has the potential to shave six months off of the filing timeline. Meanwhile, priority review reduces the review time at the agency from ten months to six months.
The most important factor, however, is the guaranteed period of exclusivity after marketing authorization is granted. For a drug that includes a molecule that has never been approved, the Hatch-Waxman Act of 1984 grants a guaranteed five years of exclusivity, regardless of patentlife. For a drug that includes a molecule that has previously been approved, but carries a new indication of use, three years of exclusivity are guaranteed. And, under Hatch-Waxman, a drug's patentlife can be extended by up to five years (no more than 14 years total), to compensate for premarketing development timelines.
Under the GAIN Act, antibiotic manufacturers are granted an additional five years beyond the exclusivity period guaranteed by Hatch-Waxman or the drug's patent life. For instance, a newly approved molecule that lacks patent protection would get five years from Hatch-Waxman and an additional five years from GAIN, totaling 10 years of exclusivity. And this is for a drug that lacks patent protection! For a drug with patent protection, the exclusivity period can be substantially longer.
The implications of this extension of exclusivity are meaningful. Pharmaceutical drugs are typically sold at a loss for the first several years they are on the market. However, once the drugs have been established in the marketplace, their margins expand dramatically. The final years of a drug's life are typically very profitable, often with 40-80% operating margins. Thus, the extension of exclusivity increases the probability that a pharmaceutical manufacturer will likely realize an elevated period of extreme profitability.
The GAIN Act has only been in place for three years, however we are beginning to see antibiotic development roar back to life after a 20-year period of underinvestment. And there are many additional laws being proposed to further incent antibiotic development. We have a handful of antibiotic investments that intend to capitalize on this trend, and we are likely to add additional investments as new companies come to market.
*Antibiotics: Dates of discovery
*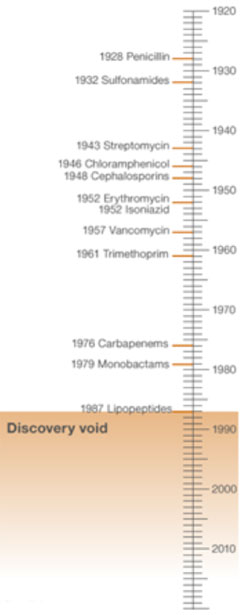 This information is not intended to provide investment advice. Nothing herein should be construed as a solicitation, recommendation or an offer to buy, sell or hold any securities, market sectors, other investments or to adopt any investment strategy or strategies. You should assess your own investment needs based on your individual financial circumstances and investment objectives. This material is not intended to be relied upon as a forecast or research. The opinions expressed are those of Driehaus Capital Management LLC ("Driehaus") as of August 2015 and are subject to change at any time due to changes in market or economic conditions. The information has not been updated since August 2015 and may not reflect recent market activity. The information and opinions contained in this material are derived from proprietary and non-proprietary sources deemed by Driehaus to be reliable and are not necessarily all inclusive. Driehaus does not guarantee the accuracy or completeness of this informa­tion. There is no guarantee that any forecasts made will come to pass. Reliance upon information in this material is at the sole discretion of the reader.