The development of any novel therapy presents two unique hurdles from an investment perspective: high failure rates and extraordinarily high upfront costs. By some estimates, it can take many hundreds of millions of dollars in capital investment and substantially more than a decade for a successful novel therapy to reach cash flow positivity. Including the costs of failed therapies and opportunity cost of capital, the all-in cost estimates balloon into the billions.*
To overcome these hurdles, venture capitalists and some public market investors have developed an investment model that offsets upfront costs by focusing on therapies with large market potential and taking multiple shots on goal. Under this model, a small number of home runs can offset high overall failure rates. We respect this model and note that it has formed the foundation of many investment firms, some of which have produced strong results for their investors. However, at Driehaus, we do things a little differently.
Our investment model offsets upfront costs by prioritizing therapies with both high probability of success and tight error bars around terminal value (Exhibit 1). To borrow a sports analogy, our model prioritizes batting average over slugging percentage. We developed this model over the past decade investing in and observing biotech markets. With this approach, we have been able to focus on differentiated areas of market inefficiency that others may have overlooked. Over time, we believe this approach will enable us to continue to produce strong results for our investors that can complement – and in some cases rival – those of our successful venture capital model peers.
Exhibit 1. Clinical Stage Biotech Investing: Comparing VC Approach to Driehaus Approach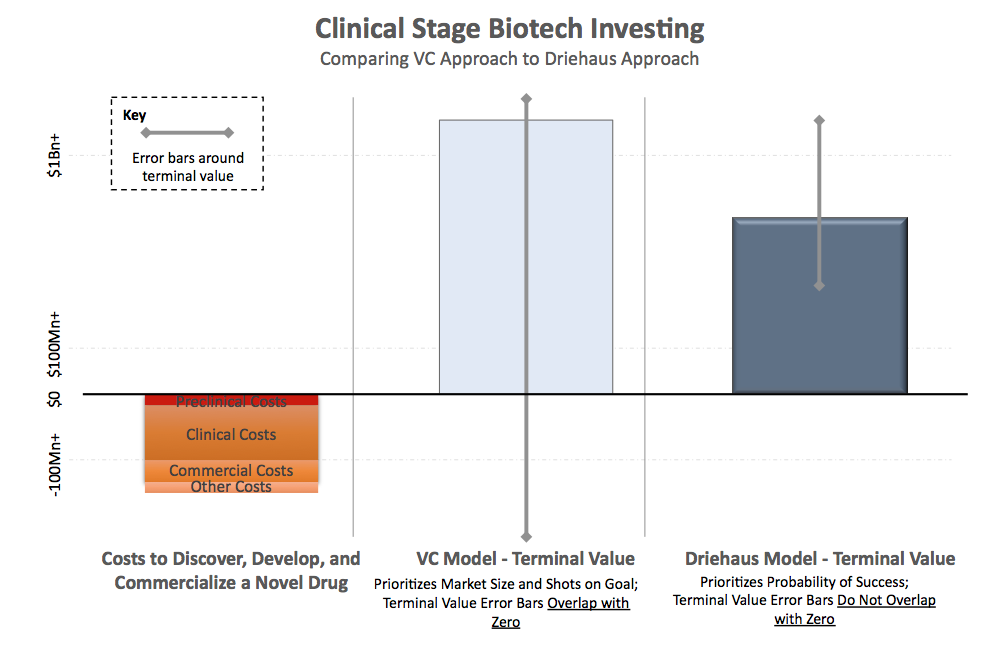 Source: Driehaus Capital Management LLC
*See DiMasi, "Innovation in the pharmaceutical industry: New estimates of R&D costs," Journal of Health Economics, 2016, and Adams, "Estimating The Cost Of New Drug Development: Is It Really $802 Million?," Health Affairs, 2006.
This information is not intended to provide investment advice. Nothing herein should be construed as a solicitation, recommendation or an offer to buy, sell or hold any securities, market sectors, other investments or to adopt any investment strategy or strategies. You should assess your own investment needs based on your individual financial circumstances and investment objectives. This material is not intended to be relied upon as a forecast or research. The opinions expressed are those of Driehaus Capital Management LLC ("Driehaus") as of December 2019 and are subject to change at any time due to changes in market or economic conditions. The information has not been updated since December 2019 and may not reflect recent market activity. The information and opinions contained in this material are derived from proprietary and non-proprietary sources deemed by Driehaus to be reliable and are not necessarily all inclusive. Driehaus does not guarantee the accuracy or completeness of this informa­tion. There is no guarantee that any forecasts made will come to pass. Reliance upon information in this material is at the sole discretion of the reader.