Performance by hospital stocks, as a group, peaked in July 2015 and has since fallen 36%. Investor concerns range from the "ACA taper" to fears that Obamacare won't exist in its current form come 2017.
Obamacare increased the percentage of the US population that is insured, and in doing so simultaneously increased hospital volume and decreased uncompensated care. Thus, if Obamacare were to be changed, or if the tailwinds it has provided were to subside, it could dramatically change the outlook for the industry.
Below, we highlight the primary risks for investors in the hospital industry:
Tough comps. Coming out of 2013 and into 2014, we saw hospital same-store volume pick up. However, it appears to have peaked and is potentially in the process of normalizing (Exhibit 1).
Exhibit 1: Change in hospital admissions, year over year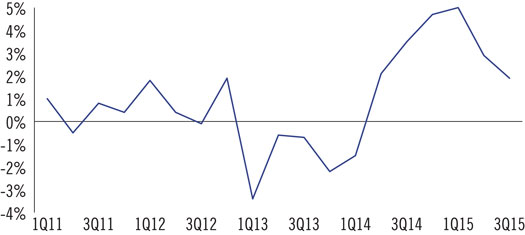 Source: Public company filings
*Pent-up demand waning. *It is widely speculated, and likely confirmed through data, that the initial Obamacare enrollees were high utilizers of health care because of pent-up health issues that needed to be addressed. Ostensibly, having addressed the pent-up health issues, the existing enrollees are now using less health care and future enrollees likely have fewer pent-up issues.
*Marginal benefit declining. *Obamacare increased the number of insured, thus lowering bad debt. However, it appears that the marginal benefit peaked at the end of 2014 and is likely in the later innings of normalizing (Exhibit 2).
Exhibit 2: Change in uncompensated care as a % of net revenue for four leading hospitals

Source: Company documents and Barclays Research
Higher deductibles. Higher deductibles are a headwind to health care utilization, and while this trend is a long-standing one, deductibles continue to rise (Exhibit 3).
Exhibit 3: Percentage of covered workers with annual deductible of $1,000 or more for single coverage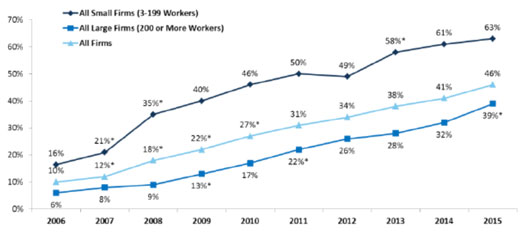 Source: Kaiser Family Foundation
Lower enrollment expectations. Expectations for new enrollees has dropped drastically. The Congressional Budget Office nearly halved their expectation for year-end 2016 enrollees.
Insurance company success on the exchanges. The largest insurance company in the country is threatening to withdraw its products from the exchanges due to excessive losses. While the other insurers are not sounding the alarm, the fact that the largest insurer is unable to operate profitably doesn't bode well for the outlook of the exchanges.
Concern over 2017 Obamacare. In addition to the risks introduced by the country's largest insurer pulling out of the exchanges, the changing government administration in 2017 presents a fresh threat to the structure of Obamacare.
Just to be clear, we are not declaring that the sky is falling for the hospital industry. However, we are closely monitoring the industry's trends. The beauty of investing in small caps is that real growth stories can power through industry headwinds. Nonetheless, it pays to be vigilant and to invest in the industries with tailwinds.
This information is not intended to provide investment advice. Nothing herein should be construed as a solicitation, recommendation or an offer to buy, sell or hold any securities, market sectors, other investments or to adopt any investment strategy or strategies. You should assess your own investment needs based on your individual financial circumstances and investment objectives. This material is not intended to be relied upon as a forecast or research. The opinions expressed are those of Driehaus Capital Management LLC ("Driehaus") as of December 2015 and are subject to change at any time due to changes in market or economic conditions. The information has not been updated since December 2015 and may not reflect recent market activity. The information and opinions contained in this material are derived from proprietary and non-proprietary sources deemed by Driehaus to be reliable and are not necessarily all inclusive. Driehaus does not guarantee the accuracy or completeness of this informa­tion. There is no guarantee that any forecasts made will come to pass. Reliance upon information in this material is at the sole discretion of the reader.