The Driehaus Emerging Markets Growth Strategy has generated meaningful alpha in recent years from frontier markets, which have comprised approximately 5-15% of strategy assets. Positive contributors have included a casino in Cambodia, a telecom that became a first-mover in mobile money in Kenya, and a provider of in-flight catering services in Saudi Arabia. Going forward, we remain optimistic on frontier markets, and point to three main reasons for this stance.
Demographics
The population distribution within the frontier universe, which includes a large working-age population and relatively few elderly dependents, looks favorable in terms of future growth potential, particularly when compared to the distribution in developed markets.
Developed market population distribution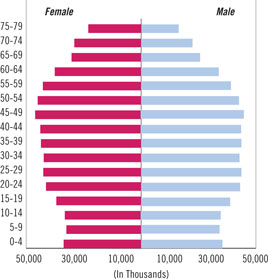 Source: United Nations, Department of Economic and Social Affairs, Population Division (2013); Driehaus Capital Management
Frontier market population distribution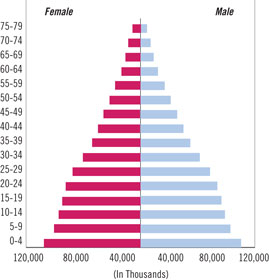 Source: United Nations, Department of Economic and Social Affairs, Population Division (2013); Driehaus Capital Management
Low levels of urbanization
Frontier markets generally have low levels of urbanization. As we have seen in emerging markets in recent years, increasing urbanization creates growth from investment and leads to better prospects for job creation and wage growth.
Potential for productivity gains
The opportunity to shift resources from less efficient, less productive sectors of the economy into more productive areas, such as manufacturing, is vast within frontier markets. Moreover, education has improved and literacy rates have increased in recent years, leading to gains from human capital. Africa in particular has enormous potential to gain from rising productivity.
We see a particularly strong opportunity set in countries with large populations, supportive demographics, and relatively low credit penetration. We favor countries that enjoy the status of being a low cost producer or a market share gainer. Lastly, we look for low hanging fruit to facilitate productivity gains, which will create a sustainable driver of economic growth. Five countries that largely meet these criteria include Vietnam, Bangladesh, Nigeria, Pakistan, and Saudi Arabia. We have a bullish long-term outlook on all five.
Beyond the favorable demographic trends and macro drivers, we believe frontier markets offer a compelling opportunity set in which to apply the Driehaus investment philosophy. As investors who "fish in inefficient ponds," we are excited about the growth prospects from frontier markets as well as the opportunity to find underowned stocks with little to no sell side coverage.
This information is not intended to provide investment advice. Nothing herein should be construed as a solicitation, recommendation or an offer to buy, sell or hold any securities, market sectors, other investments or to adopt any investment strategy or strategies. You should assess your own investment needs based on your individual financial circumstances and investment objectives. This material is not intended to be relied upon as a forecast or research. The opinions expressed are those of Driehaus Capital Management LLC ("Driehaus") as of August 2014 and are subject to change at any time due to changes in market or economic conditions. The information has not been updated since August 2014 and may not reflect recent market activity. The information and opinions contained in this material are derived from proprietary and non-proprietary sources deemed by Driehaus to be reliable and are not necessarily all inclusive. Driehaus does not guarantee the accuracy or completeness of this informa­tion. There is no guarantee that any forecasts made will come to pass. Reliance upon information in this material is at the sole discretion of the reader.