New regulations may tighten trucking capacity and benefit select trucking companies. During November 2015, the Federal Motor Carrier Safety Administration (FMCSA) is expected to publish its Final Rule mandating the use of electronic logging devices (ELDs) for the trucking industry. ELDs are used to electronically record and log the number of hours a driver was on-duty and driving.
Commercial motor vehicles that are involved in interstate commerce are subject to Hours of Service (HOS) regulation, which mandates the number of hours a trucker can drive. Log books are often used to enforce HOS regulations. An ELD mandate has the potential to significantly reduce industry capacity over what will likely be a two-year implementation period after the rules are published.
Currently, ELD penetration is low. Only an estimated 20-30% of the trucking industry has an ELD installed on its tractors, and of those only two-thirds are estimated to be in use. Carriers without ELDs are more capable of falsifying paper log books, which enables truckers to drive more hours. This has created somewhat of an uneven playing field as carriers with ELDs installed are more likely to be following HOS rules and limiting their drivers' hours on the road. There is limited data as to how much falsifying of log books actually occurs, but it is thought to be prevalent and at least as high as 15% of carriers.
If ELDs are adopted, estimates of capacity reductions range between 4-14%. Public truckload carriers adopted ELDs in 2010 and 2011 and, as shown in Exhibits 1 and 2, saw about a 6-8% drop in utilization during the implementation period. With an estimated 70% of the industry yet to install ELDs, the effect could be larger this time. However, public truckload carriers, having already gone through the process, are likely positioned to benefit the most from the regulations once they are implemented.
Exhibit 1: Miles per Tractor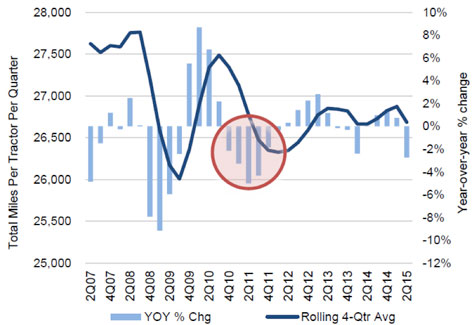 Source: KeyBanc Capital Markets Inc., Company filings
Exhibit 2: Average Miles per Tractor Before and After ELD Adoption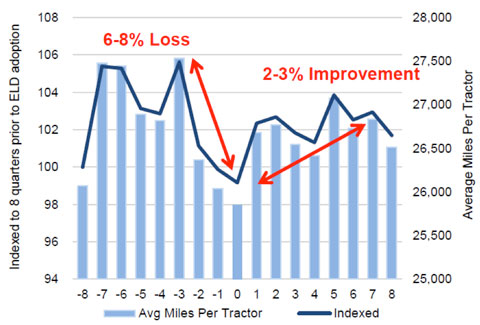 Source: KeyBanc Capital Markets Inc., Company filings
ELD regulation likely would result in a tighter supply-demand balance and stronger pricing power in the truckload market as capacity is reduced. This should disproportionately benefit the public truckload carriers. Another byproduct could be increased industry consolidation. The truckload market is highly fragmented and this regulation could turn some of the marginally profitable players into willing sellers.
Currently, the fundamentals in the truckload market are mixed. Volume growth has decelerated in recent quarters and a persistent driver shortage has increased costs. However, pending ELD regulation may drive truckload carrier stock gains over the coming quarters.
This information is not intended to provide investment advice. Nothing herein should be construed as a solicitation, recommendation or an offer to buy, sell or hold any securities, market sectors, other investments or to adopt any investment strategy or strategies. You should assess your own investment needs based on your individual financial circumstances and investment objectives. This material is not intended to be relied upon as a forecast or research. The opinions expressed are those of Driehaus Capital Management LLC ("Driehaus") as of November 2015 and are subject to change at any time due to changes in market or economic conditions. The information has not been updated since November 2015 and may not reflect recent market activity. The information and opinions contained in this material are derived from proprietary and non-proprietary sources deemed by Driehaus to be reliable and are not necessarily all inclusive. Driehaus does not guarantee the accuracy or completeness of this informa­tion. There is no guarantee that any forecasts made will come to pass. Reliance upon information in this material is at the sole discretion of the reader.