The chart below shows the stock performance (white, left axis) of a large Brazilian energy company versus its 2014 consensus earnings expectations (red, right axis) for the past year. Surprisingly, despite earnings revisions trending downward since March, the stock price has nonetheless rallied nearly 50% during that time and increased its market capitalization by more than $30 billion.
Stock price (white, left axis) versus 2014 consensus earnings estimates (red, right axis) of a large Brazilian energy company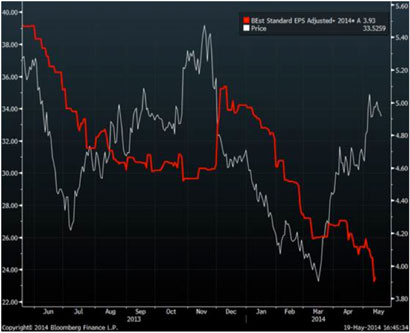 This trend has appeared in many emerging markets. Since the middle of March, "value" as a performance factor has generated market-leading returns while the "growth" and "earnings revisions" factors have delivered significantly inferior performance on a relative basis during the same period.
While a multitude of factors may explain the divergent performance trends, the likely explanations in our view include:
The flattening of the U.S. yield curve and the consequent effect on emerging market currencies, which have supported carry-trades and risk-on/beta-additive positioning;
Crowded positioning with many investors long secular growth stories and short or underweight low-quality companies; and
An asset allocation shift from relatively expensive U.S. equities into "cheap" emerging market equities, primarily via passive index vehicles.
Similar to the spring of 2009, we anticipate that this convergence trade will ultimately peter out as short-covering and currency appreciation can only carry equities so far without an associated improvement in fundamental growth. While periods like this prove challenging for our investment style, we nonetheless anticipate a return to "normal" by sometime in the autumn. Until then, our objective will be to use the intervening choppiness to accumulate quality growth companies at attractive levels.
This information is not intended to provide investment advice. Nothing herein should be construed as a solicitation, recommendation or an offer to buy, sell or hold any securities, market sectors, other investments or to adopt any investment strategy or strategies. You should assess your own investment needs based on your individual financial circumstances and investment objectives. This material is not intended to be relied upon as a forecast or research. The opinions expressed are those of Driehaus Capital Management LLC ("Driehaus") as of May 2014 and are subject to change at any time due to changes in market or economic conditions. The information has not been updated since May 2014 and may not reflect recent market activity. The information and opinions contained in this material are derived from proprietary and non-proprietary sources deemed by Driehaus to be reliable and are not necessarily all inclusive. Driehaus does not guarantee the accuracy or completeness of this informa­tion. There is no guarantee that any forecasts made will come to pass. Reliance upon information in this material is at the sole discretion of the reader.