One prominent theme from the June 2023 quarter earnings season is the return of normal business seasonality. The pandemic disrupted supply chains all over the world, and as we move away from that period lead times continue to normalize. In many cases, lead times have improved from over a year to only a few months. Therefore, companies are destocking their inventory positions, moving back towards just-in-time inventory management and away from the just-in-case posture many companies adopted since the pandemic started. As you can see in Exhibit 1, inventory levels are coming back down.
Exhibit 1: ISM Manufacturing PMI: Inventories Since 1948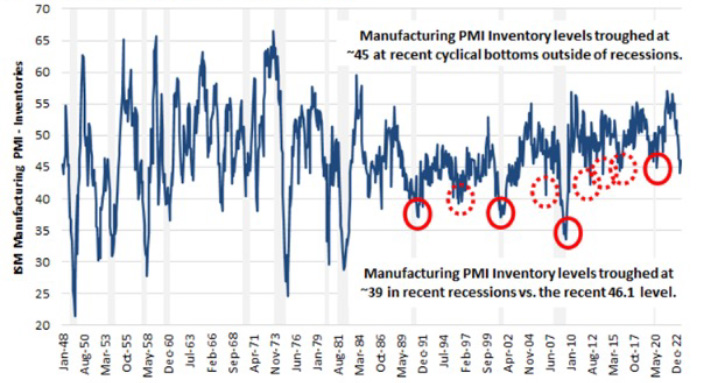 Source: Federal Reserve, Factset, Baird Estimates
Does this mean demand is coming down? Not necessarily. Thus far destocking seems to be more of a working capital adjustment than a symptom of weaker demand. Backlogs remain >100% above 2019 levels in many cases, which will drive revenue growth for the next 12-18 months or longer depending on how fast backlogs can be worked down. However, backlogs are not coming down as fast as expected as demand remains resilient. Exhibit 2 shows a collection of machinery companies' combined backlogs over time.
Exhibit 2: Backlogs Remain at Elevated Levels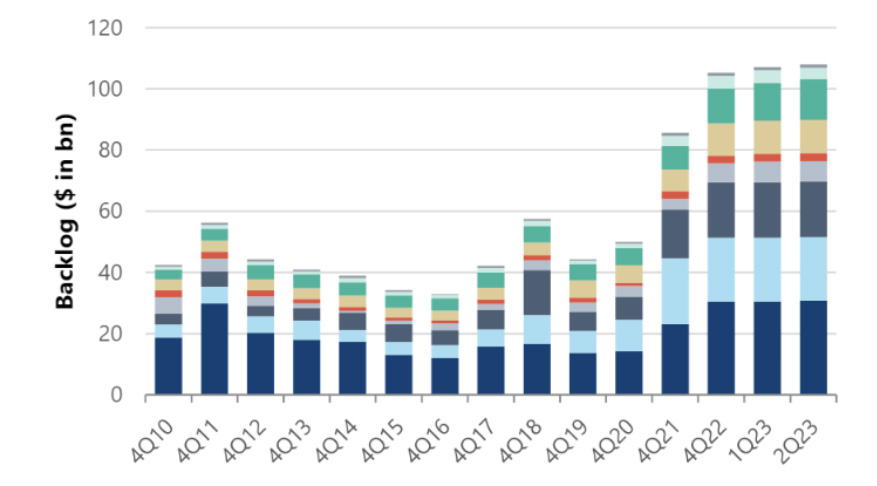 Source: Jefferies Research
22V Research published an interesting chart that reflects management's sentiment around the level of inventory at their businesses. As you can see below, great progress reducing inventories has been made over the last year. It seems like the indicator is likely to turn down next implying companies are more likely to begin restocking sometime soon if demand holds up. Restocking would be a nice tailwind for transportation companies.
Exhibit 3: The S&P 500 Earnings Call Inventory Sentiment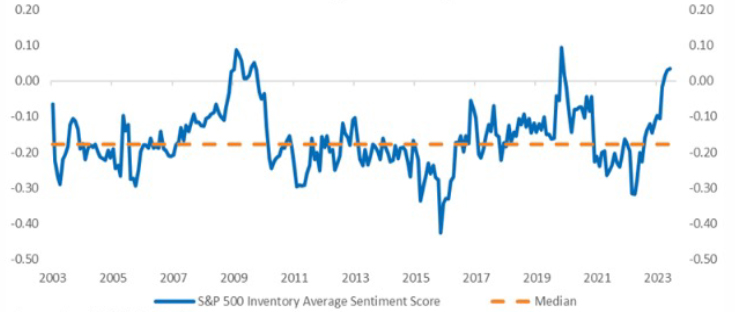 Source: Amenity, 22V Research
We will continue to watch the dynamics between inventory, orders, and backlogs closely in the quarters ahead, because it will be an important determinant of 2024 earnings power. We have a positive bias towards industrials' earnings power in 2024 since we are only in the early innings of large fiscal stimulus being deployed. Therefore, we wouldn't be surprised if elevated backlogs persist.
This information is not intended to provide investment advice. Nothing herein should be construed as a solicitation, recommendation or an offer to buy, sell or hold any securities, market sectors, other investments or to adopt any investment strategy or strategies. You should assess your own investment needs based on your individual financial circumstances and investment objectives. This material is not intended to be relied upon as a forecast or research. The opinions expressed are those of Driehaus Capital Management LLC ("Driehaus") as of August 2023 and are subject to change at any time due to changes in market or economic conditions. The information has not been updated since August 2023 and may not reflect recent market activity. The information and opinions contained in this material are derived from proprietary and non-proprietary sources deemed by Driehaus to be reliable and are not necessarily all inclusive. Driehaus does not guarantee the accuracy or completeness of this informa­tion. There is no guarantee that any forecasts made will come to pass. Reliance upon information in this material is at the sole discretion of the reader