Industries are constantly evolving or improving, but less frequently an idea or new technology proves to be disruptive or game changing. All industries are susceptible, especially the multi-century old railroad industry. Within the past five years, the industry has undergone a major operational change thanks to the famous industry executive, Hunter Harrison. His methods of improving these companies have become known as Precision-Scheduled Railroading, or "PSR." Until recently, railroads' service and reliability had been lagging and it was negatively impacting supply chains across their customer base. Customers were not receiving their goods on time. There had to be a better way, and the late Hunter Harrison proved that there was. Rail companies were overstaffed, unpredictable, and overcapitalized. PSR emphasizes point-to-point freight car utilization of simplified routing networks. As a result, rails have reduced the number of locomotives in service by more than 10%, increased train speed ~13%, and reduced dwell times by as much as 20%. Exhibit 1 illustrates the impact of PSR in percentage terms at an early adopter (purple line). The other companies represented in the exhibit embraced the new structure later on, but they also began to see improvements.
Exhibit 1: Railroad Performance Metrics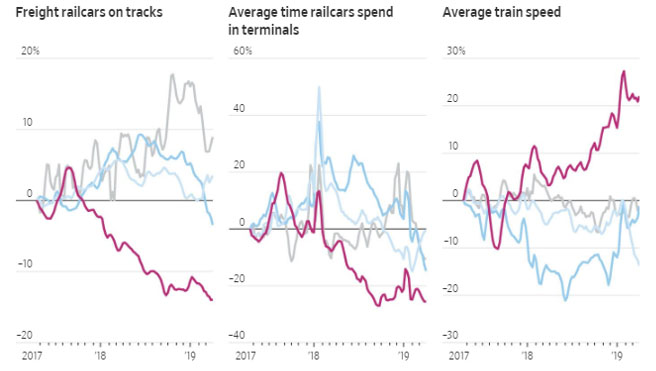 Notes: Data are for the four-week moving average through March 27, 2019. Source: Surface Transportation Board.
Further demonstrating the staying power of the change underway was financial performance of the public operators in 2019. Despite reporting weak revenue growth, down low-single digits on average, they all improved their operating ratios (costs as a percentage of revenue) in a range of 70 to 210 basis points year over year. Without a meaningful recovery in volumes expected in 2020, it is estimated that these companies will continue to expand margins. The company furthest along in its journey has seen an overall improvement of almost 1,000 basis points in just three years as of year-end 2019. Exhibit 2 demonstrates the more-recent progress at four of the railroads implementing PSR.
Exhibit 2: Operating Margin History

By implementing PSR, we believe railroads are effecting structural change that will improve efficiencies, margins and earnings growth moving forward. Their true earnings power is yet to be demonstrated, due to a temporarily unfavorable volume environment, but their best days are still ahead of them. A volume recovery will shine a light on higher incremental margins than has ever been realized in the past.
This information is not intended to provide investment advice. Nothing herein should be construed as a solicitation, recommendation or an offer to buy, sell or hold any securities, market sectors, other investments or to adopt any investment strategy or strategies. You should assess your own investment needs based on your individual financial circumstances and investment objectives. This material is not intended to be relied upon as a forecast or research. The opinions expressed are those of Driehaus Capital Management LLC ("Driehaus") as of March 2020 and are subject to change at any time due to changes in market or economic conditions. The information has not been updated since March 2020 and may not reflect recent market activity. The information and opinions contained in this material are derived from proprietary and non-proprietary sources deemed by Driehaus to be reliable and are not necessarily all inclusive. Driehaus does not guarantee the accuracy or completeness of this informa­tion. There is no guarantee that any forecasts made will come to pass. Reliance upon information in this material is at the sole discretion of the reader.