While at Driehaus Capital Management we continue to look for growth opportunities, we also are on the lookout for areas to avoid. For example, the significant rise of debt in the Indian corporate sector is one source of concern for us. Net debt of the country's top 750 companies (ex-banks) has grown five-fold during the past six years to about $250 billion. The average net debt-to-equity ratio of the leveraged companies has almost doubled to 1x, as shown in the chart below, while interest coverage of these highly leveraged companies has halved over the same period.
Net-debt-to-equity for leveraged companies is now at a multi-year high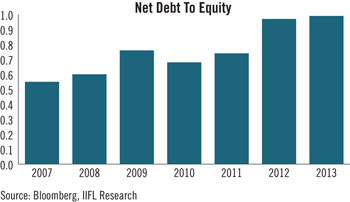 The return on equity of these highly leveraged companies has dropped from 18.9% in fiscal year 2007 to 8.1% in 2013 despite an increase in leverage. This indicates stress in the operational business environment at a time when the local economy, due to various reasons, runs the risk of a further slowdown. Avoiding companies with these characteristics, such as select Indian industrial companies and banks with exposure to them, has benefited our emerging markets portfolios.
This information is not intended to provide investment advice. Nothing herein should be construed as a solicitation, recommendation or an offer to buy, sell or hold any securities, market sectors, other investments or to adopt any investment strategy or strategies. You should assess your own investment needs based on your individual financial circumstances and investment objectives. This material is not intended to be relied upon as a forecast or research. The opinions expressed are those of Driehaus Capital Management LLC ("Driehaus") as of August 2013 and are subject to change at any time due to changes in market or economic conditions. The information has not been updated since August 2013 and may not reflect recent market activity. The information and opinions contained in this material are derived from proprietary and non-proprietary sources deemed by Driehaus to be reliable and are not necessarily all inclusive. Driehaus does not guarantee the accuracy or completeness of this informa­tion. There is no guarantee that any forecasts made will come to pass. Reliance upon information in this material is at the sole discretion of the reader.