The past few years have witnessed explosive growth in the Chinese e-commerce market (Exhibit 1), facilitated by rising Internet penetration and development of the e-commerce ecosystem. The pace of market growth has been astounding and e-commerce now accounts for over 10% of China's retail sales. Having surpassed the U.S., the Chinese e-commerce market is now the largest in the world, approaching $400 billion in annualized sales (Exhibit 2). The revenue of China's largest e-commerce retailer is more than that of the United States' two largest e-commerce companies combined.
Exhibit 1: Online retail penetration (unadjusted): China versus U.S.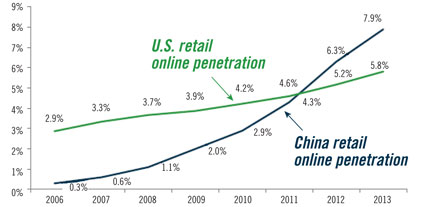 Source: iResearch, U.S. Department of Commerce
Exhibit 2: Online retail gross transaction value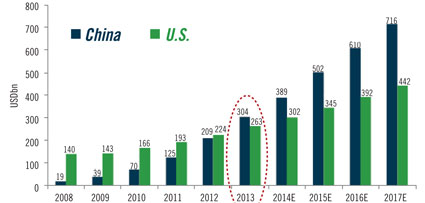 Source: iResearch, U.S. Department of Commerce, emarketer
The outsized market growth shows no signs of stopping, with second quarter 2014 figures posting close to 50% annualized growth. The outlook is compelling, as e-commerce penetration of China's 600 million Internet users is only 50% (compared to 75% or higher for many developed countries) and mobile commerce is rapidly emerging as a new driver of growth. Chinese smartphone penetration is only 30% but is quickly increasing on the back of improving affordability and availability. China has over 500 million mobile Internet users, of which 150 million are mobile commerce customers. These mobile users represent 50% of total online shoppers and their number is growing quickly.
Proliferation of the Chinese e-commerce market presents both opportunities and threats. E-commerce has allowed companies to leapfrog the build-out of physical distribution, especially in the lower-tier cities, which has radically altered the competitive environment for many traditional brick-and-mortar retailers. We continue to look for companies positioned to benefit from the emerging sector trends, while at the same time understanding the risk posed to many of the traditional competitors.
This information is not intended to provide investment advice. Nothing herein should be construed as a solicitation, recommendation or an offer to buy, sell or hold any securities, market sectors, other investments or to adopt any investment strategy or strategies. You should assess your own investment needs based on your individual financial circumstances and investment objectives. This material is not intended to be relied upon as a forecast or research. The opinions expressed are those of Driehaus Capital Management LLC ("Driehaus") as of September 2014 and are subject to change at any time due to changes in market or economic conditions. The information has not been updated since September 2014 and may not reflect recent market activity. The information and opinions contained in this material are derived from proprietary and non-proprietary sources deemed by Driehaus to be reliable and are not necessarily all inclusive. Driehaus does not guarantee the accuracy or completeness of this informa­tion. There is no guarantee that any forecasts made will come to pass. Reliance upon information in this material is at the sole discretion of the reader.