In a year in which retailers and restaurants have seen significant underperformance relative to the broader market, many investors looking for exposure to the consumer discretionary sector have gravitated toward gaming stocks.
Exhibit 1: Composite of US Gaming Stocks vs Russell 3000

The gaming industry has been a relative safe-haven as it has benefitted from a generally healthy consumer spending environment, no overlap with Amazon, limited supply growth, robust levels of mergers and acquisition (M&A) activity and a favorable debt market. That said, there are some concerns about the long-term health of the industry having to do with demographics. A visit to nearly any casino floor in the United States reveals an older demographic with plenty of gray-haired retirees parked in front of slot machines and a bevy of elderly patrons motoring around on scooters. While older patrons will always be a key part of any casino's customer base due to their likelihood of having greater disposable income and free time, some investors are concerned that younger consumers, especially Millennials, are not going to gamble as much as previous generations and will leave casinos with a slowly shrinking pool of customers.
With this in mind, a recent visit to the Global Gaming Expo (G2E) in Las Vegas proved to be a valuable opportunity to meet with several management teams and assess the gaming industry's efforts to appeal to younger customers. As usual, makers of slot machines and other gaming equipment had the biggest presence at the convention. With slot machines being one of the most profitable parts of a casino's business, the ability of gaming equipment companies to innovate and appeal to new generations of gamblers will be critically important for the long-term health of the industry.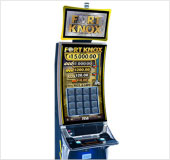 Several themes emerged from our visit. While traditional three-reel steppers (the classic slot machine with three reels that have symbols like a cherry, a 7 or a bar along with a large handle to pull on) are still being made, slot machine makers are packing lots of innovative technology into their products to make the gaming experience more exciting and less repetitive. We saw games that employed virtual reality, 3D, mid-air haptics, gesture-based and optical controls and massive curved ultra-high definition displays with 4K graphics. The machines that could be controlled by using hand gestures or by simply locking your eyes on an object were particularly innovative, although they required some explanation to figure out how to properly employ these new techniques.
The line between traditional video games and slot machines is becoming increasingly blurred. G2E exhibitors had slot machines based on video games like Fruit Ninja and other games that could begin as free-play on mobile devices or online and then be resumed on a slot machine for real money. There was an emerging category of games of skill that mimicked traditional video games where adeptly controlling the movements of characters on screen would lead to higher payouts. We even saw a racing game complete with a simulated driver's cockpit.
One of the most ubiquitous characteristics of younger people is their propensity to be glued to a phone and exhibitors were clearly tapping into this. Some slot machines had mobile device charging ports. Gaming systems providers were offering solutions that enable mobile wagering where gamblers can place bets on sporting events from their phone. Others had systems that would allow consumers to use their phones to monitor activity and place bets at multiple tables on the casino floor. Cash management systems providers had mobile wallet solutions that could benefit both casinos and their patrons. Mobile wallets have the potential to reduce costs for casinos by cutting the amount of cash on the floor while effectively keeping more of their patrons' money tied to the facility. For the gambler, the amount of friction required to access funds would be greatly reduced and could potentially cost less (no more $10 ATM surcharges).
While all of these developments appear promising for the gaming industry's ability to attract a younger demographic, it will likely take a long time to assess their level of adoption and impact. Even if ultimately unsuccessful, we believe that demographic issues will take several years to have a noticeable impact on industry fundamentals. Absent a recession, we expect that the favorable industry environment should continue to yield numerous attractive investment opportunities.
This information is not intended to provide investment advice. Nothing herein should be construed as a solicitation, recommendation or an offer to buy, sell or hold any securities, market sectors, other investments or to adopt any investment strategy or strategies. You should assess your own investment needs based on your individual financial circumstances and investment objectives. This material is not intended to be relied upon as a forecast or research. The opinions expressed are those of Driehaus Capital Management LLC ("Driehaus") as of October 2017 and are subject to change at any time due to changes in market or economic conditions. The information has not been updated since October 2017 and may not reflect recent market activity. The information and opinions contained in this material are derived from proprietary and non-proprietary sources deemed by Driehaus to be reliable and are not necessarily all inclusive. Driehaus does not guarantee the accuracy or completeness of this informa­tion. There is no guarantee that any forecasts made will come to pass. Reliance upon information in this material is at the sole discretion of the reader.