With more than 200 million Internet users, India already possesses the world's third largest Internet user base. This market has experienced acceleration in the growth rate of Internet users during the past year, driven by falling data prices, cheaper smartphones, and an improving Internet ecosystem. With only 17% Internet penetration—compared to the 34% global average and developed country penetration north of 60%—we believe that Indian Internet usage is still in the early stages and has significant room to grow.
The number of Internet users in India has risen 3.5x in the past five years, crossing 200 million in October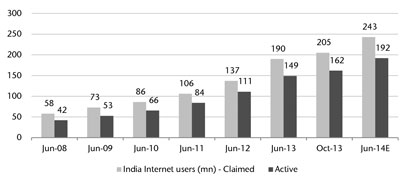 Source: IAMAI Note: Claimed users have accessed Internet at least once in lifetime while Active accessed Internet at least once in past one month.
An interesting aspect of the story is that Internet users are bypassing the traditional fixed line infrastructure common in most developed markets and jumping directly to mobile devices. More than 60% of users are connected via mobile devices and that proportion continues to rise. The future growth potential of mobile Internet is illustrated by the fact that India's 850 million mobile phone subscribers are more than four times the country's total number of Internet users.
Mobile Internet is emerging as the key driver of rising Internet penetration in India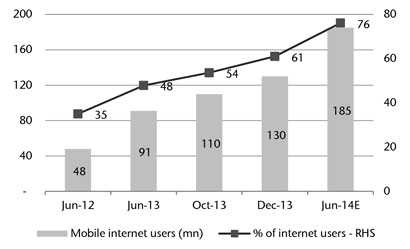 Source: Jefferies estimates, IAMAI, TRAI
We believe this is a powerful theme across the emerging markets universe and India is just one good example of these dynamics at work.
This information is not intended to provide investment advice. Nothing herein should be construed as a solicitation, recommendation or an offer to buy, sell or hold any securities, market sectors, other investments or to adopt any investment strategy or strategies. You should assess your own investment needs based on your individual financial circumstances and investment objectives. This material is not intended to be relied upon as a forecast or research. The opinions expressed are those of Driehaus Capital Management LLC ("Driehaus") as of March 2014 and are subject to change at any time due to changes in market or economic conditions. The information has not been updated since March 2014 and may not reflect recent market activity. The information and opinions contained in this material are derived from proprietary and non-proprietary sources deemed by Driehaus to be reliable and are not necessarily all inclusive. Driehaus does not guarantee the accuracy or completeness of this informa­tion. There is no guarantee that any forecasts made will come to pass. Reliance upon information in this material is at the sole discretion of the reader.