Rising health care costs, evidenced by rising insurance premiums, have garnered much attention over the past several years. While drug price inflation or, more recently, the Affordable Care Act are identified as the usual suspects, there isn't a universal strategy in place to combat cost escalation. Premiums are eating into employer profits and household incomes (Exhibit 1).
Exhibit 1: Average family premium as a percentage of median family income, 1999-2020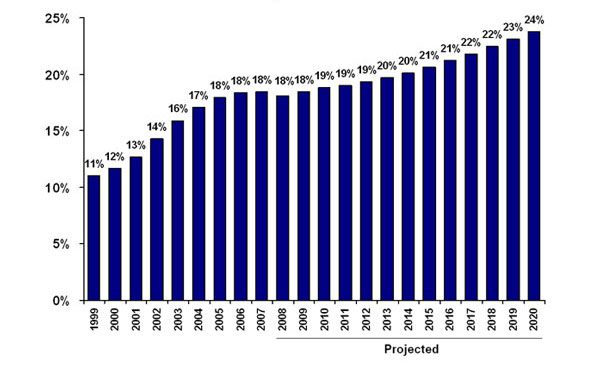 Source: Commonwealth Fund
As illustrated in Exhibit 2, employers have increasingly been pushing employees into consumer-directed health plans (CDHPs). One type of CDHP gaining in popularity among employers and consumers is health savings accounts (HSAs). HSAs have a number of benefits such as lower premiums (Exhibit 3), tax-advantaged funding, investment-like characteristics, and lower costs for employees and employers. The offset is the plan requires higher out-of-pocket expenses from the employee until the deductible is paid.
Exhibit 2: Employers moving away from traditional health care plans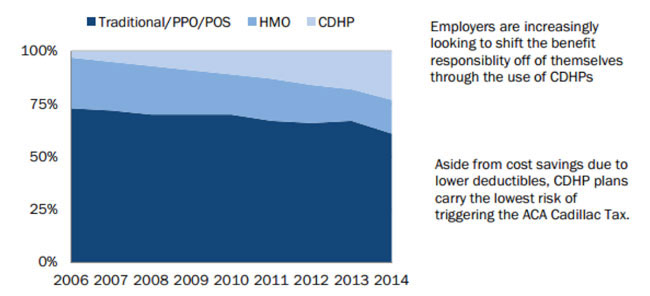 Source: Mercer's National Survey of Employer-Sponsored Health Plans
Exhibit 3: CDHPs have the lowest premiums

Source: Kaiser Family Foundation
While the transition to CDHPs from traditional health plans (HMO, PPO, etc.) has been ongoing for several years, the market opportunity for HSA providers is still large. The total insured population has remained unchanged since 2009. Meanwhile, HSA penetration has been rising rapidly but overall remains low. From 2009 to 2014, HSA enrollment has nearly doubled (Exhibit 4).
Exhibit 4: Health savings accounts & flexible savings accounts have 30% of the market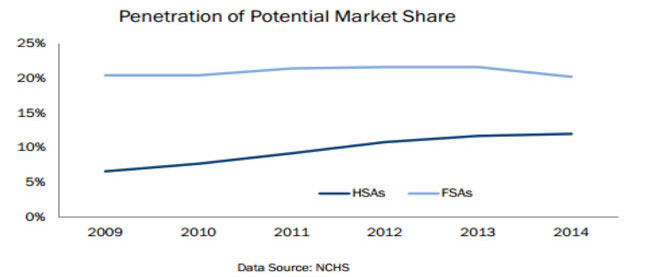 Source: Kaiser Family Foundation
As long as health care expense growth continues to outpace inflation, it will drive HSA adoption. Long term, this should have positive implications for health care cost containment as it was recently said by a HSA provider that employers with the largest number of HSA participants are seeing health care cost growth suppressed from high single digits to low single digits. Within the small and micro cap universe, we are finding opportunities with pure-play providers of CDHPs to capitalize on the high earnings growth resulting from this trend.
This information is not intended to provide investment advice. Nothing herein should be construed as a solicitation, recommendation or an offer to buy, sell or hold any securities, market sectors, other investments or to adopt any investment strategy or strategies. You should assess your own investment needs based on your individual financial circumstances and investment objectives. This material is not intended to be relied upon as a forecast or research. The opinions expressed are those of Driehaus Capital Management LLC ("Driehaus") as of April 2016 and are subject to change at any time due to changes in market or economic conditions. The information has not been updated since April 2016 and may not reflect recent market activity. The information and opinions contained in this material are derived from proprietary and non-proprietary sources deemed by Driehaus to be reliable and are not necessarily all inclusive. Driehaus does not guarantee the accuracy or completeness of this informa­tion. There is no guarantee that any forecasts made will come to pass. Reliance upon information in this material is at the sole discretion of the reader.