A two-sided marketplace is an industrial structure that has existed for quite some time, but like in many other business models, technology is driving an evolution in their scope and scale. The core fundamentals that make marketplaces valuable are being enhanced. Network Effects are still driving platform growth as additional buyers on the platform attract more sellers which in turn attract more buyers, and the positive demand loop continues. Technology has enabled the creation of marketplaces in industries where transactions used to be quite manual. Examples of such industries include but are not limited to manufacturing, retail, payments, dating, advertising, travel, transportation, and auto. See Exhibit 1.
Exhibit 1 - Digitized Markets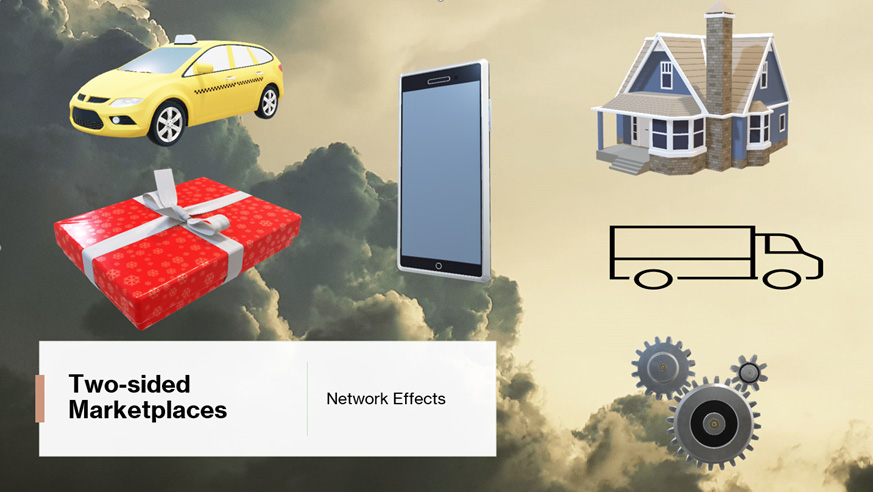 Source: Driehaus Capital Management, LLC
The ability to digitize an underpenetrated industry that is inefficient, fragmented, or resource constrained has created new applications for the marketplace business model. Many marketplaces are in different stages of transitioning online. Physical auctions were forced to move online during the pandemic and have benefitted from cost savings and increased demand per unit sold as each item is viewed by more buyers. Conversely, digital marketplaces, with buyers looking to get a specific part manufactured, have more sellers competing for the bid which is driving down the price of that item, lowering costs and truncating lead times for the buyer. Another attractive characteristic of a digital marketplace is the ability to offer a self-service option to sellers. Sellers can place an item on the platform by themselves without interacting with someone from the platform. This removes a cost bucket for the marketplace and lowers marginal costs. See Exhibit 2.
Exhibit 2 - Two-Sided Marketplace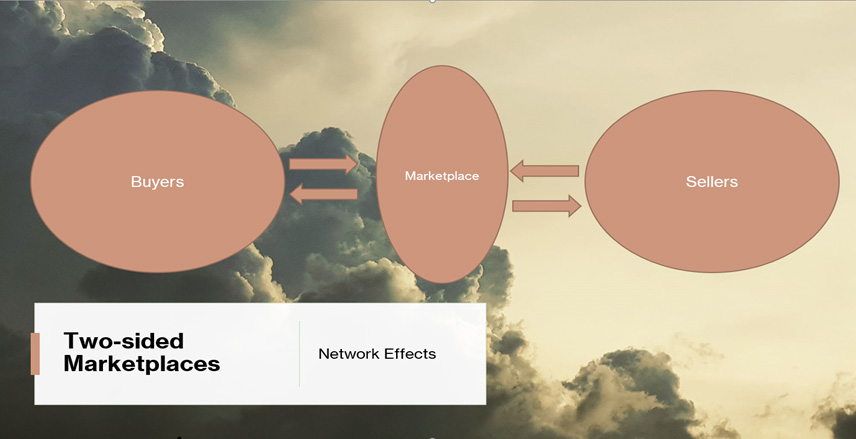 Source: Driehaus Capital Management, LLC
These improvements are largely now possible due to cloud computing. Marketplaces are taking advantage of tools like Artificial Intelligence (AI) and Machine Learning (ML) to remove complexities. AI and ML can analyze and estimate costs more accurately creating several benefits such as better pricing, instant quoting, more efficient sourcing and logistics, and faster lead times. These are all examples of how digitization can decrease or remove frictions between buyers and sellers.
We are currently finding new markets ripe for disruption that are just beginning to be revolutionized with technology and digitization analogous to what has already occurred in the hotel, transportation, and retail industries. Technology continues to expand the marketplace model's capabilities and reach. Once a marketplace hits critical mass where fixed costs can be leveraged and marginal costs are low, it can lead to significant revenue and earnings growth.
This information is not intended to provide investment advice. Nothing herein should be construed as a solicitation, recommendation or an offer to buy, sell or hold any securities, market sectors, other investments or to adopt any investment strategy or strategies. You should assess your own investment needs based on your individual financial circumstances and investment objectives. This material is not intended to be relied upon as a forecast or research. The opinions expressed are those of Driehaus Capital Management LLC ("Driehaus") as of March 2022 and are subject to change at any time due to changes in market or economic conditions. The information has not been updated since March 2022 and may not reflect recent market activity. The information and opinions contained in this material are derived from proprietary and non-proprietary sources deemed by Driehaus to be reliable and are not necessarily all inclusive. Driehaus does not guarantee the accuracy or completeness of this informa­tion. There is no guarantee that any forecasts made will come to pass. Reliance upon information in this material is at the sole discretion of the reader.